"How on earth
did you end up here in Ouje-Bougoumou, of all places?" I asked Niila Inga, one
of the leaders of the 29 Samí youth delegation. The question had been on my
mind all morning. Niila and I were sitting in the Elder's Gathering Space,
taking a bit of a rest during a very full afternoon visit at Aaanischaaukamikw
Cree Cultural Institute on October 7, 2015. Niila's response – they were
looking to connect with the people of Eeyou Istchee, in particular the youth –
they had come looking for guidance and expertise because the Cree have been
successful in negotiating a settlement for future generations.
This youth
delegation, representing each Sápmi region in Sweden, travelled over 5,000
kilometres to come and meet the people of Eeyou Istchee, to share their culture
and to learn from the people here. For over a year they researched the history
of the Eastern James Bay Cree, contacted and coordinated with the governments
of Waswanipi and Ouje-Bougoumou, and raised funds to cover the costs of their
flight, transportation, food and lodging.
Niila and the rest of the youth delegation are not just
ordinary young people from Sápmi, Sweden,
they are reindeer herders. This youth delegation is but one of many young Samí
trying to preserve and continue the Traditional ways of the Samí people, as
young reindeer herders they are part of a long tradition in their territory.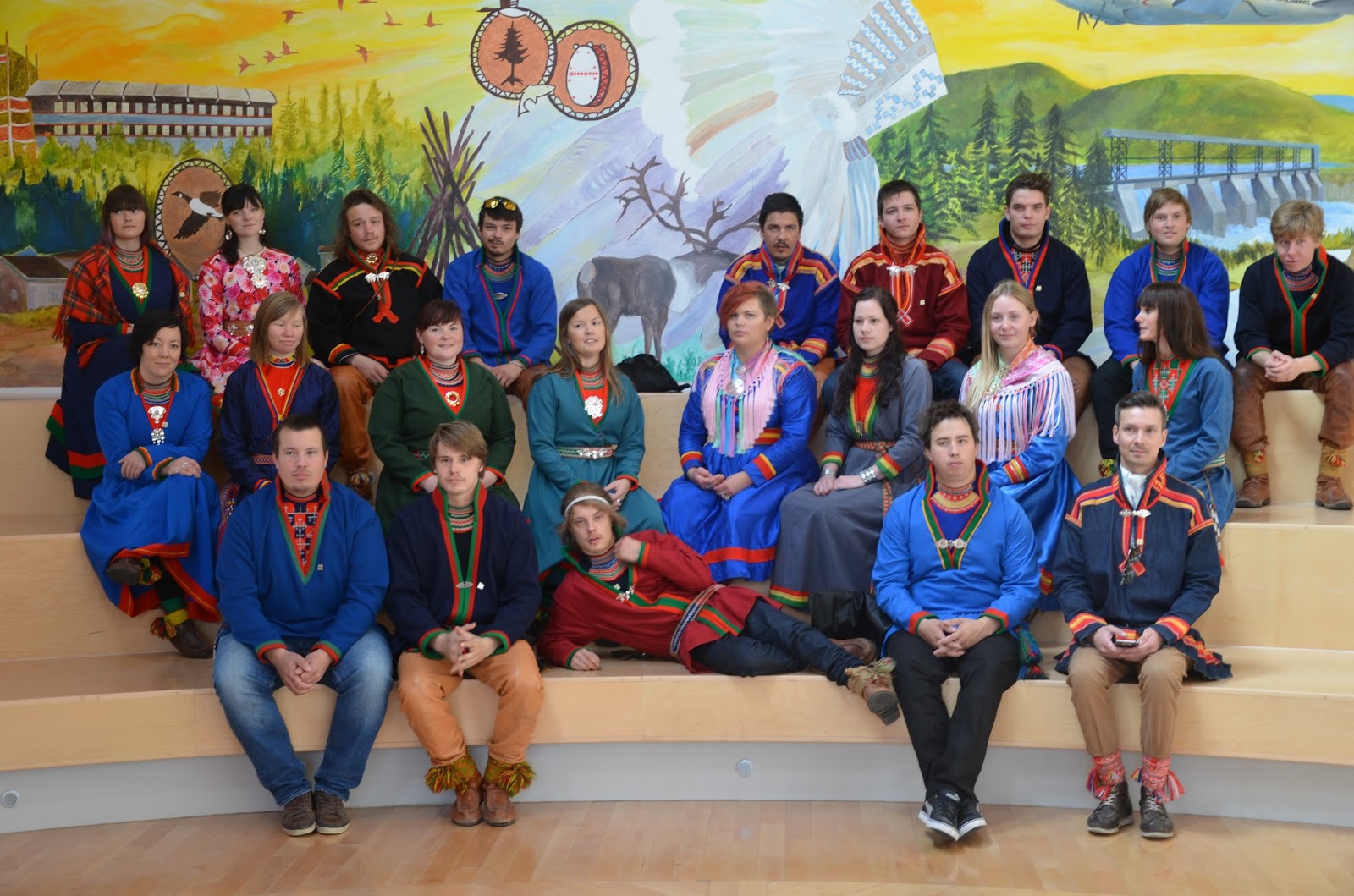 We were
honoured to have them visit us on Wednesday October 7, 2015, part of a two day
visit in Ouje-Bougoumou. The delegation was greeted by Ron Simard,
Ouje-Bougoumou Tourism Officer, in the Billy Diamond Hall.

The group
enjoyed a guided tour of the Institute including our beautiful Exhibit Hall.
Harold Bosum gave a Tamarack Decoy making demonstration that generated a lot of
interest, questions and queries from the delegation. At the end of the
demonstration Harold gifted the youth delegation with the decoy that he made
during their visit.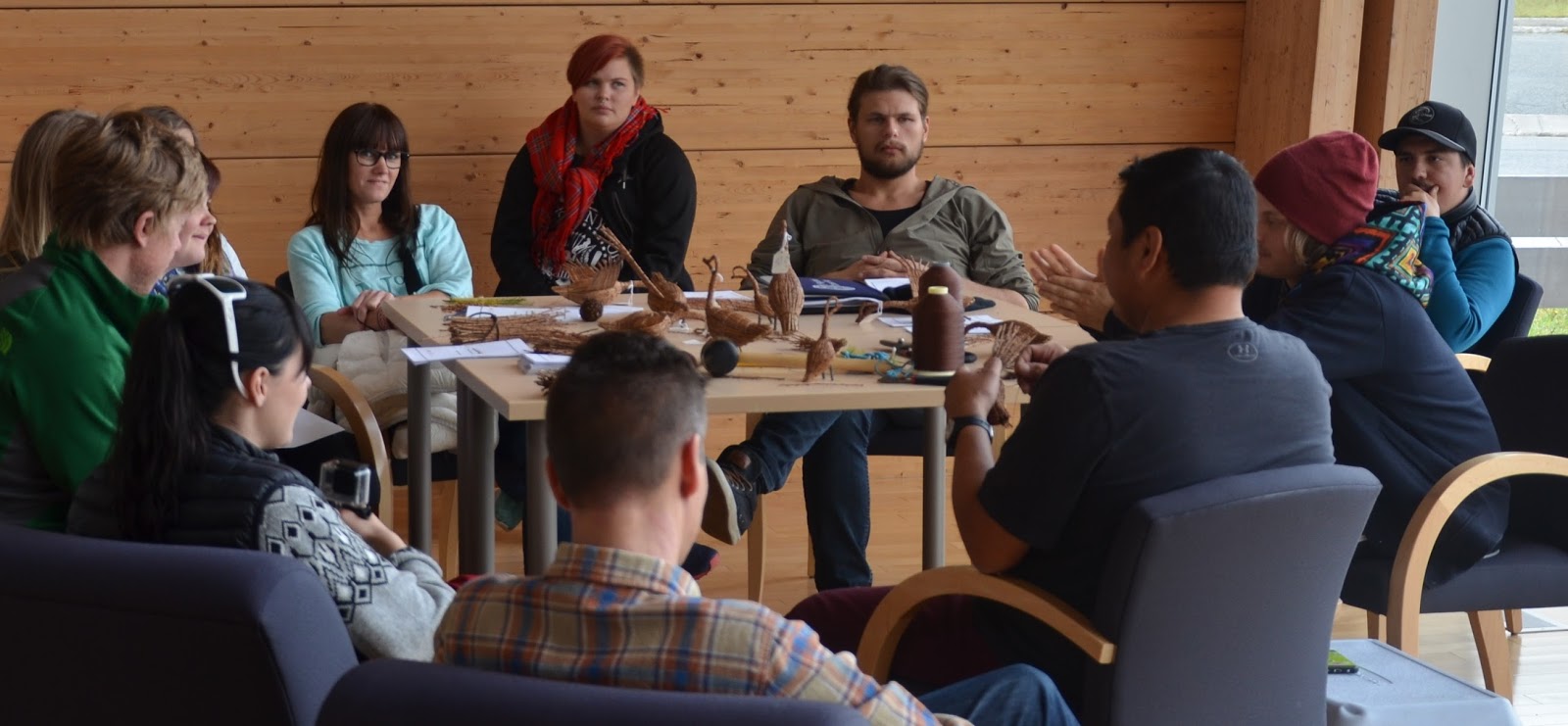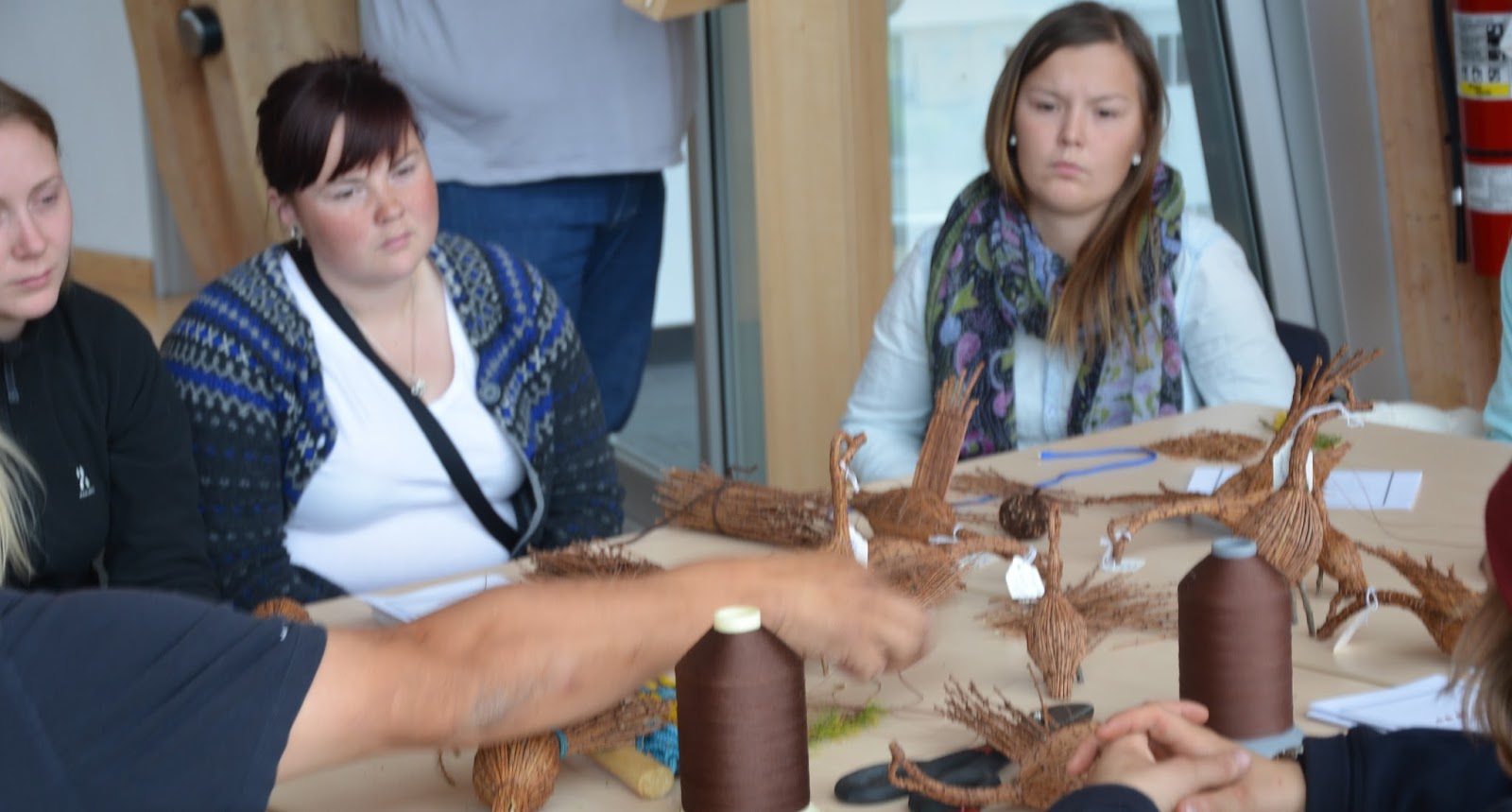 Lloyd
Cheechoo presented gifts to theSamí youth on behalf of theCree Native Arts and Crafts
Association (CNACA).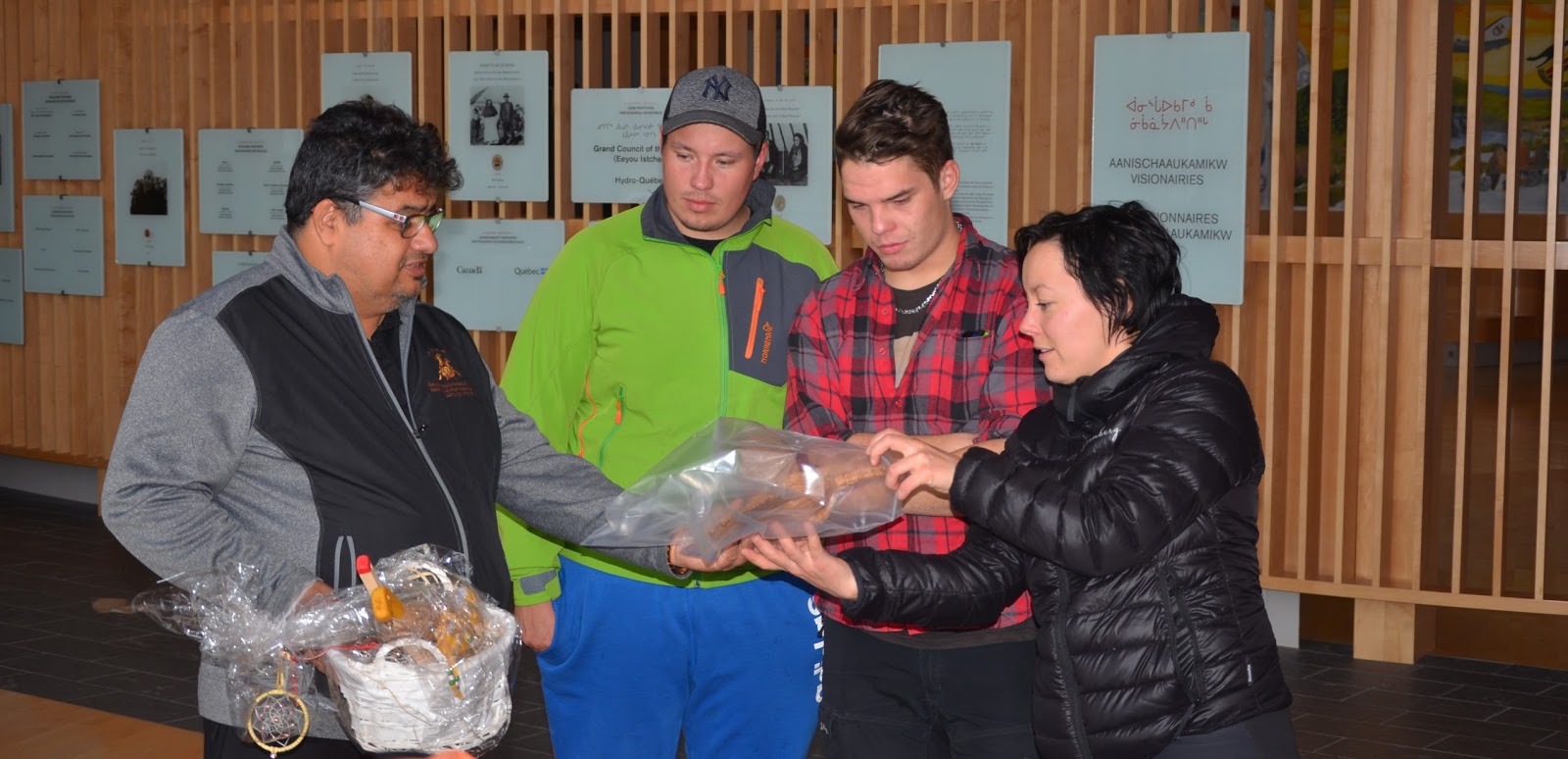 Our young guests also had the opportunity to meet with
one of the Cree Nation Government's archaeologists, Dario Izaguirre, and learn
about the role that archaelogy has played in Eeyou Istchee as evidence in Land
Claims, and also try their hand at flint knapping. Dario is somewhat of an
"artiste" in flint knapping fashioning of projectiles and arrow tips.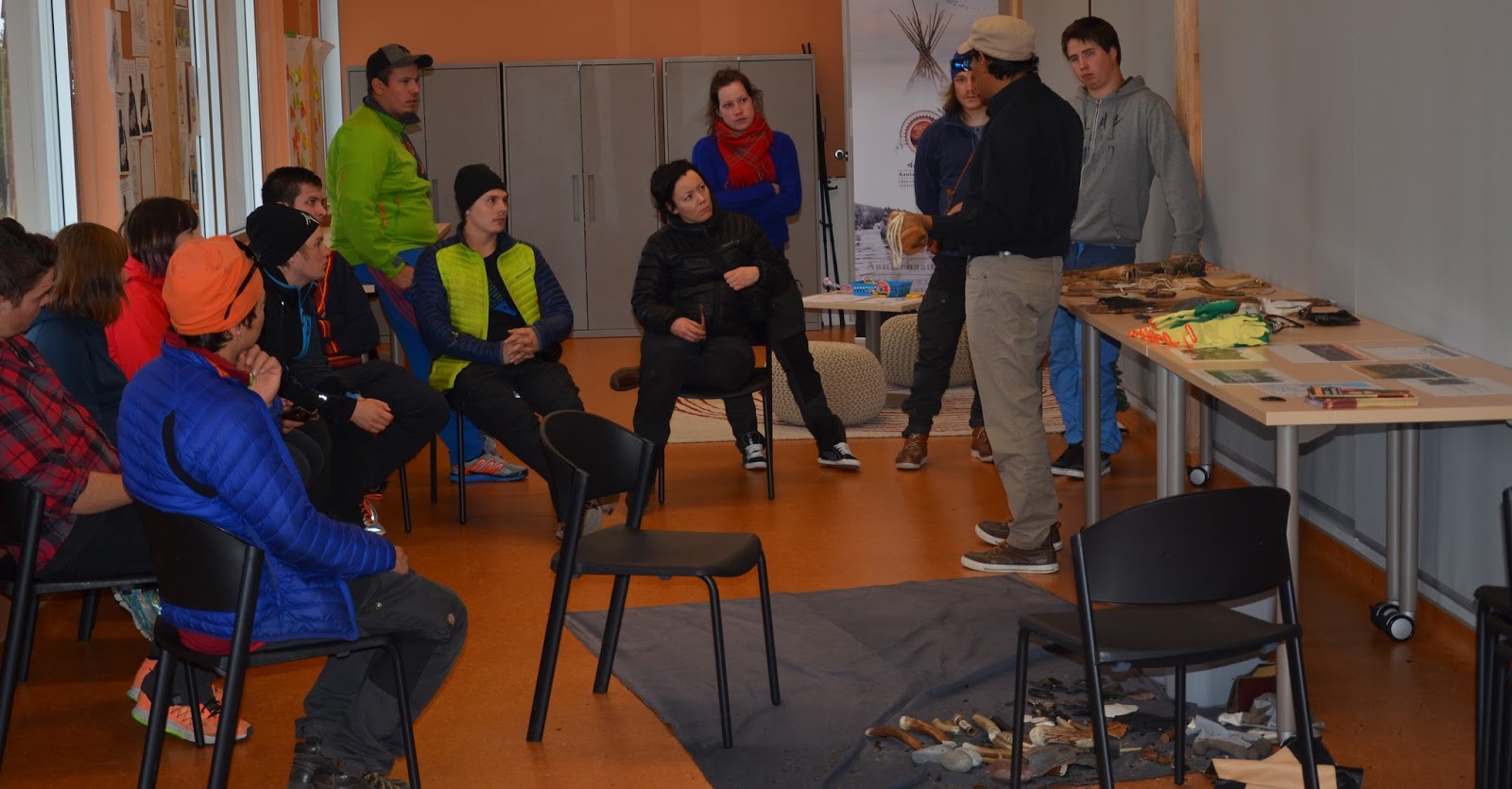 The Samí (Lapp) people have inhabited the northern portions of Scandinavia, Finland and eastward over the Russian Kola Peninsula since ancient times. Archaeological finds suggest that the Samí people have lived in the Arctic region for thousands of years. Russia, Finland, Norway and Sweden claim territories ill what is now regarded as Sápmi (Lapland).
The Samí were originally nomads, living in tents during the summer and more sturdy peat huts during the colder seasons.The Samí based their livelihood mainly on hunting and fishing; they often bartered the products from such animals as reindeer, moose and beaver with a heavy reliance and connection between the humans and the animals on the land.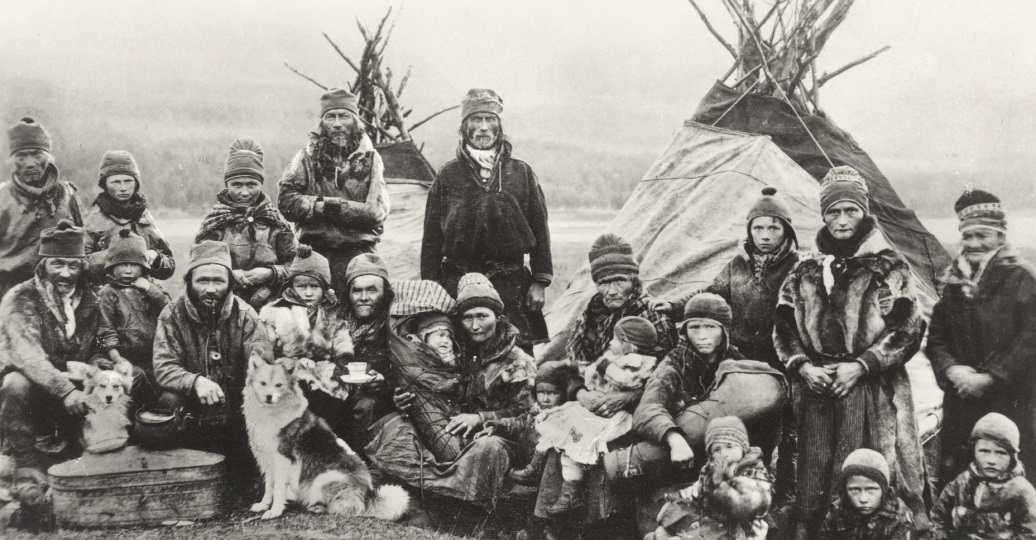 https://upload.wikimedia.org/wikipedia/commons/3/3b/Nordic_Sami_people_Lavvu_1900-1920.jpg
TheSamítoday maintain their rich culture and long-established traditions, but are as much part of modern society as any other person in Sweden.They live in modern housing and only use tents as very temporary accommodations during reindeer migrations if they don't already own cottages in the mountains and forests.http://samenland.nl/lap_sami_si.html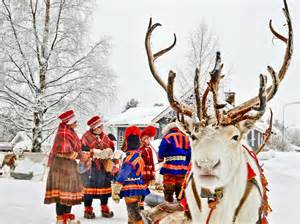 Add chttp://skandihome.com/skandiblog/uncategorized/sami-culture-customs/aption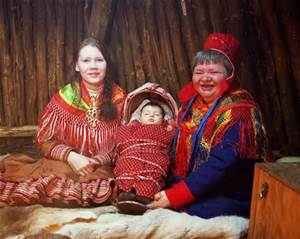 https://www.pinterest.com/pin/166844361165332394/
Samíherders call their work boazovázzi, which translates as "reindeer walker," and that's exactly what herders once did, following the fast-paced animals on foot or wooden skis as they sought out the best grazing grounds over hundreds of miles of terrain. Times have changed. Herders are now assigned to specific parcels of the reindeer's traditional grazing territories at designated times of the year. To make the lifestyle workable, herders use all-terrain vehicles and snowmobiles to maintain hundreds of miles of fences between territories and move large herds in accordance with land-use regulations. Today, only ten per cent of SwedishSamíearn a living from the reindeer industry, and many combine their family businesses with tourism, fishing, crafts and other trades.ttp://ngm.nationalgeographic.com/2011/11/sami-reindeer-herders/benko-text
On their final night in Ouje-Bougoumou the young Samí reindeer
herders treated the community to an evening performance of traditional songs,
presentations on cultural practices and traditional clothing, as well as a
beautiful video of the land and the way of life of the Samí.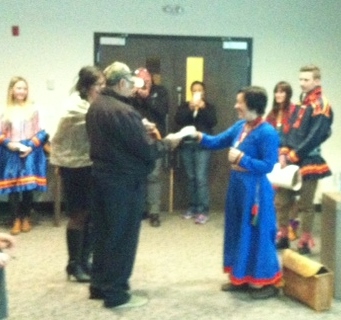 Gift
presented to Elder Lawrence Shecapio on behalf of the Ouje-Bougoumou Cree
Nation – Samí Evening Performance and Presentation-(Capissisit Lodge, Thursday October 8, 2015/ Photo credit: Kelly Pineault )
We were sad
to say good-bye, but hope that this is the beginning of an ongoing dialogue and a
lasting relationship between the people of Eeyou Istchee and the people of Sàpmi.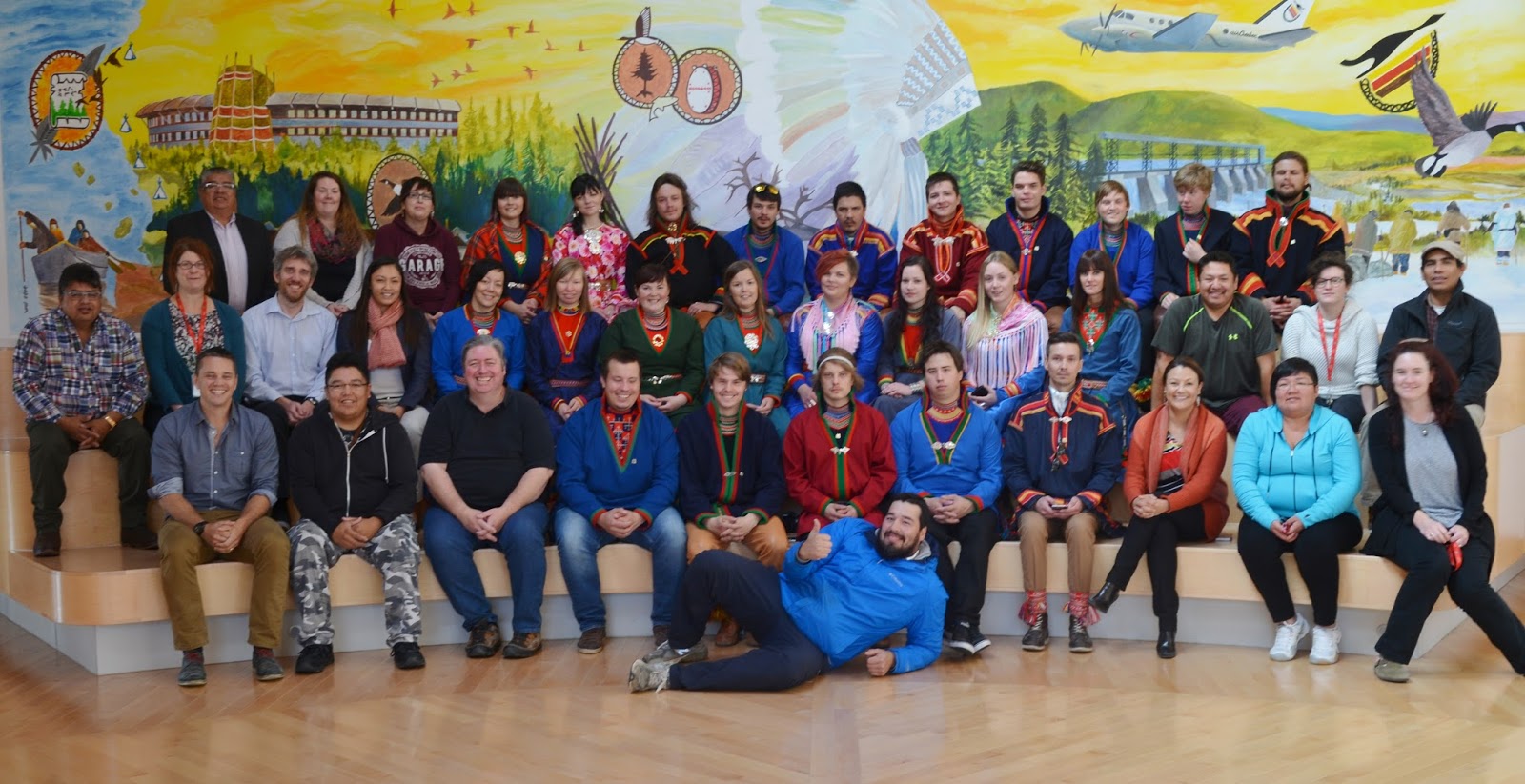 Until we meet
again,
Kelly
Pineault
Coordinator of Education