This blog post is based on text from a poster that we submitted to the Museum Ethnographers Group
(UK) conference in April 2018.
Beyond Inclusion – Decolonising through
Self-Representation in Eeyou Istchee
Aanischaaukamikw Cree Cultural Institute [ACCI] opened in
2011, after decades of planning by Eeyou Elders and community members. Located
in Ouje-Bougoumou, ACCI is the regional cultural institute for Eeyou Istchee, a
self-governing region in what is now known as Quebec that has 10 Eeyou
communities: Whapmagoostui (Great Whale); Chisasibi (relocated from Fort George);
Eastmain; Wemindji (Paint Hills); Waskaganish (Rupert's House); Nemaska;
Waswanipi; Ouje-Bougoumou; Mistissini and Washaw Sibi. Our activities include
educational programming related to Eeyou culture, management of a cultural
archive, library, museum collection, and permanent exhibition. Our mandate
explains our mission, which we imbue with our Eeyou values:
"…Aanischaaukamikw flows from the knowledge that Cree
culture must be captured, maintained, shared, celebrated, and practiced… it is
a living, breathing symbol of the James Bay Crees' determination to preserve
and share the stories and legends, the music, the pictures, and the physical
objects that show this First Nations people's unique interaction with the land,
expressed through hunting, fishing, trapping, and underscored with a reverence
for the land they have walked since time immemorial."[1]
For many decades in the 19th and 20th centuries, colonial administrators did not allow us to practice our culture and imposed their ways on our people using violent tactics. The structure of colonialism is ongoing in the 21st century but our culture and traditions are resilient. Our research projects are demonstrating the resilience of our traditions and knowledge keeping within the communities, which will be shared, as culturally appropriate.
Many of our collections projects involve community centred research
using historic objects to learn from our Elders and knowledge keepers. In 2015
Paula Menarick completed a contemporary example of a beaded hood using the
teachings of Elders who had the tradition of the hood in their families [2].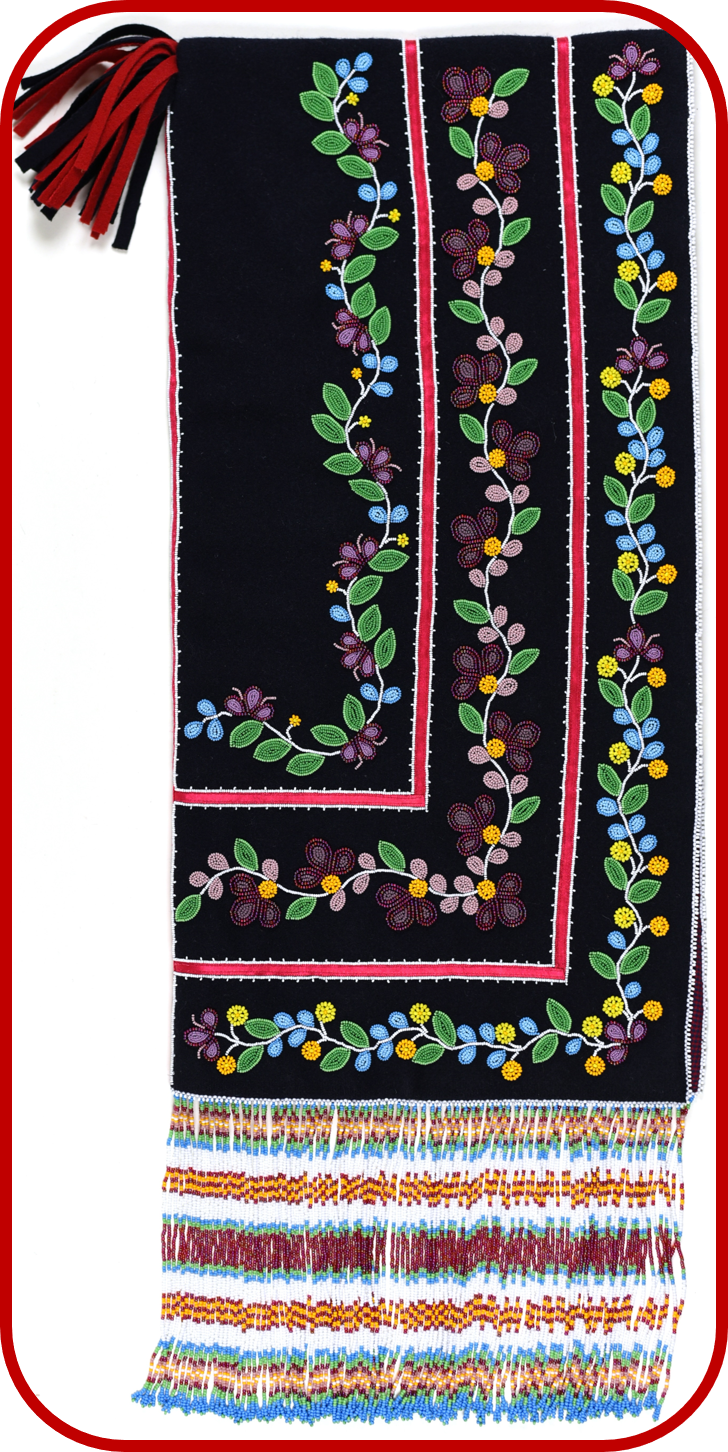 Contemporary beaded hood made by Paula Menarick – 2015.04.01
We are currently researching the tradition of painting on caribou hide using our community experts to evaluate observations made by outsiders in a project funded by the Canada Arts Council. The research is being lead by Natasia Mukash, with community collaborators from across the region.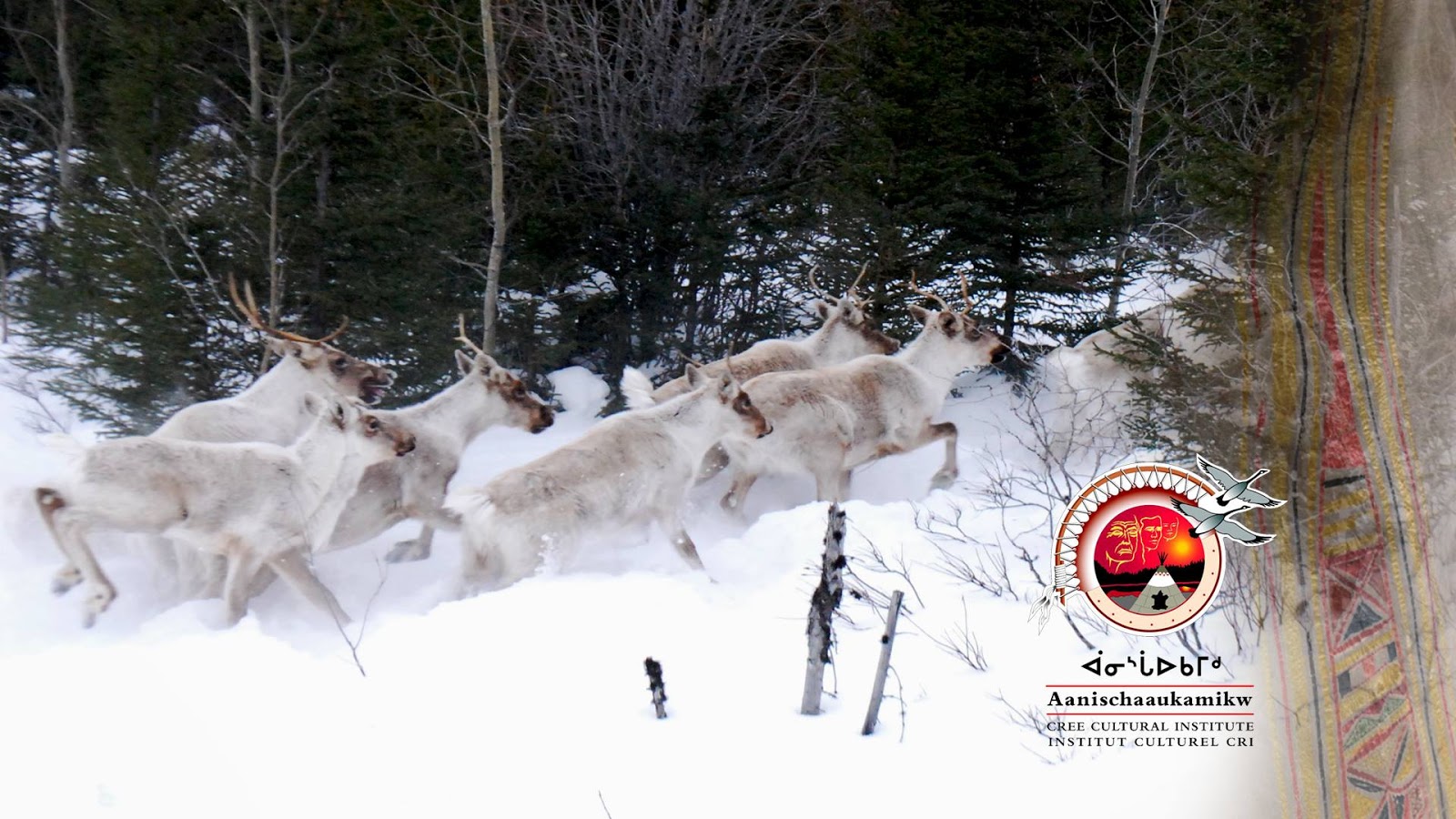 'Nothing about us, without us'
We ask that museums everywhere consult us as experts on
all aspects of our culture.
We ask that museums, archives and heritage repositories
do not reproduce or use photographs of our people without consent from
individuals or their descendants.
We are not objects for outsiders to interpret.
The right to self-representation is guaranteed by the
United Nations Declaration on the Rights of Indigenous Peoples. [3]
The OCAP® principles (ownership, control, access and
possession), developed by the First Nations Information Governance Centre in
2011, are standards to indicate how information about First Nations should be
used, disseminated, protected and collected [4]. These standards are referred
to in the Tri-Council Policy Statement for Ethical Research Involving Humans,
which is used by academic funding agencies in the colonial construct of Canada
[5]. We acknowledge that these standards are relatively recent,
but we ask that museums everywhere adhere to the OCAP principles and apply
these to historic collections and documentation.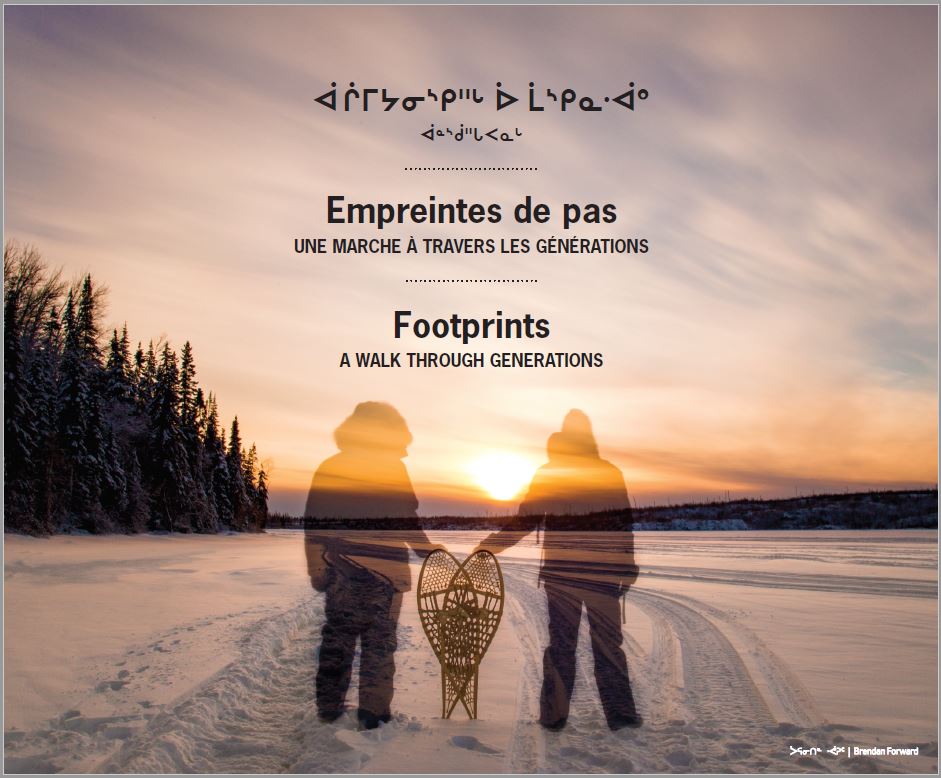 In 2017 we completed our first travelling exhibition, "Footprints,
A Walk Through Generations", which was recently recognised by the Canadian Museums Association with the Award of Outstanding Achievement in the Exhibition – Cultural Heritage category.
Through themes related to 'walking' this exhibit
celebrates teachings, values and the rich cultural history passed down from our
ancestors. Footprints follows the evolution of travelling through our eyes,
allowing visitors to experience our stories, arts and traditional technologies,
sharing in our culture. Beginning
with our childhood Rites of Passage, we share the importance of walking and making
our first footprints on Mother Earth. In walking for ceremony and journeys, we
respect the many teachings of our Elders that are passed from generation to
generation. An expression of Miyupimaatisiiwin (living life well), this exhibit
encourages health living and inter-connectedness with the land that sustains us
all [6]. In 2018 the exhibit toured our communities in our territory, a region
of over 5000 km2
(an area that spanned 450,000 km2
prior to colonisation). Our exhibit will be at the Canada Museum of History
from June to November 2019 and is available for national bookings from 2020 on.
References
[1] Aanischaaukamikw Cree Cultural Institute. "Mission and
Vision." Aanischaaukamikw Cree Cultural Institute. Accessed 1 February
2018. http://creeculturalinstitute.ca/about/mission-and-vision/.
[2] Menarick, Paula. "James Bay Cree
Hood." Otsego Institute for Native American Art History. Accessed
30 September 2017. http://www.otsegoinstitute.org/paula-menarick.html;
Menarick, Paula. "A 21st century beaded hood, made in the 19th
century style." Air Creebec Magazine Spring (2015): 18. [3] United Nations Human Rights Office of the High Commissioner. (no date). Declaration on the rights of Indigenous Peoples. Retrieved 1 June 2017 from http://www.ohchr.org/EN/Issues/IPeoples/Pages/Declaration.aspx. [4] First
Nations Information Governance Centre. "The First Nations Principles of OCAP®."
First Nations Information Governance Centre. Accessed 15 January 2018. http://fnigc.ca/ocap.html.
[5] Government of Canada. "TCPS 2 (2014) – the latest edition of Tri-Council
Policy Statement: Ethical Conduct for Research Involving Humans." Panel on
Research Ethics. Accessed 20 February 2018. http://www.pre.ethics.gc.ca/eng/policy-politique/initiatives/tcps2-eptc2/Default/.
[6] Aanischaaukamikw Cree Cultural Institute. "Footprints: An Exhibition for Community Cultural Heritage and Healing." Canada Museums Association – MUSE Magazine Sept/Oct (2017): 18-25.