After steady travel for a week and a half, meeting many wonderful people and cultural-heritage groups, we decided to come home to Ouje-Bougoumou for a little rest. We will visit community members and Band Office/Culture Department staff in Ouje-Bougoumou soon.
In Wemindji we began our visit with a stop at the Cultural Centre and met Cultural Coordinator Kerry-Lynn Stewart, Archivist Katherine Scott, and Director of Community Services Stella Lameboy-Gilpin. They showed us the Centre's collection of ancient fossils, archaeological findings, carvings and maps, as well as the Wemindji Sound Archive and the Place Names Project database.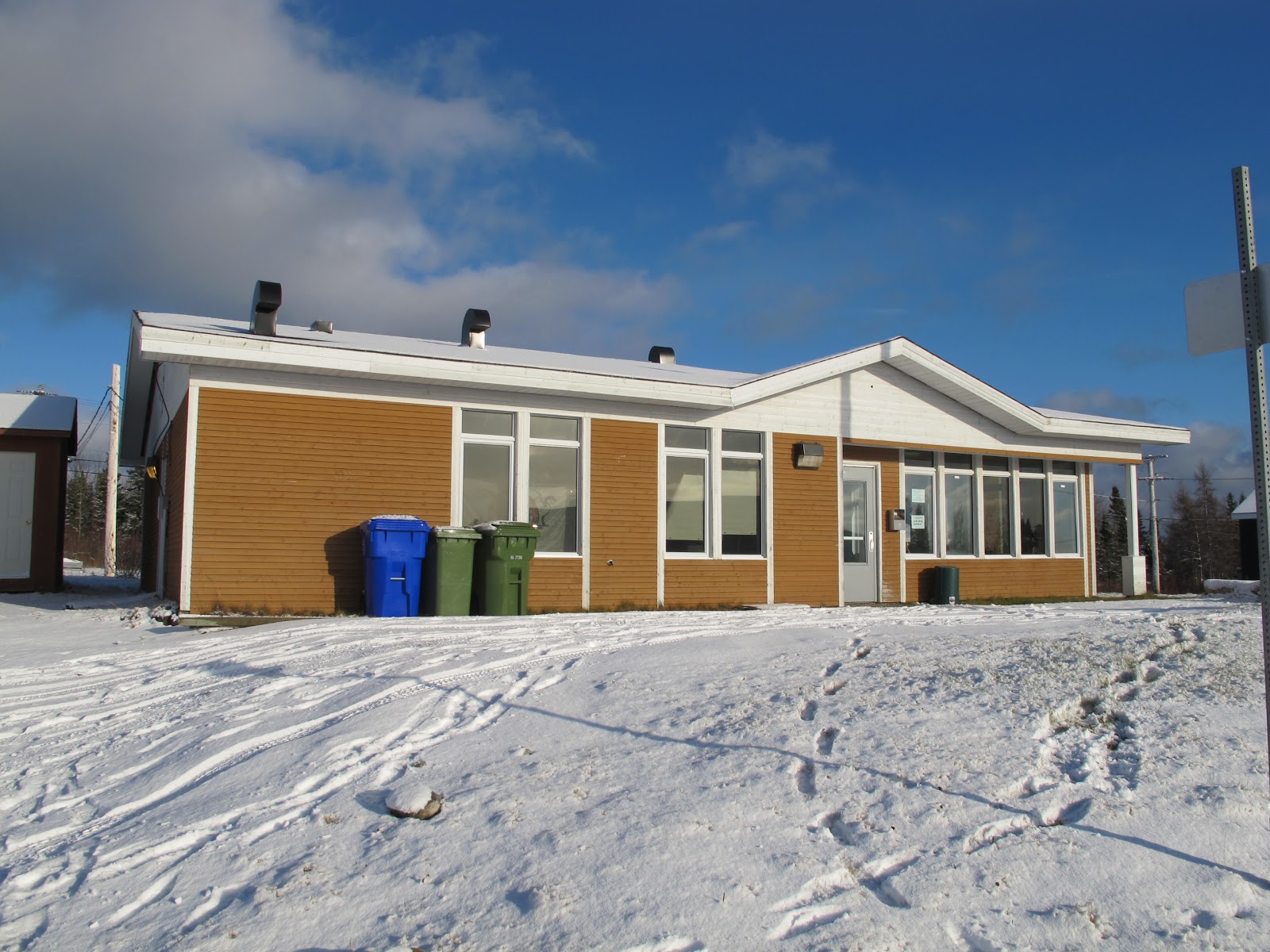 The current home of the Cree Nation of Wemindji Culture Department.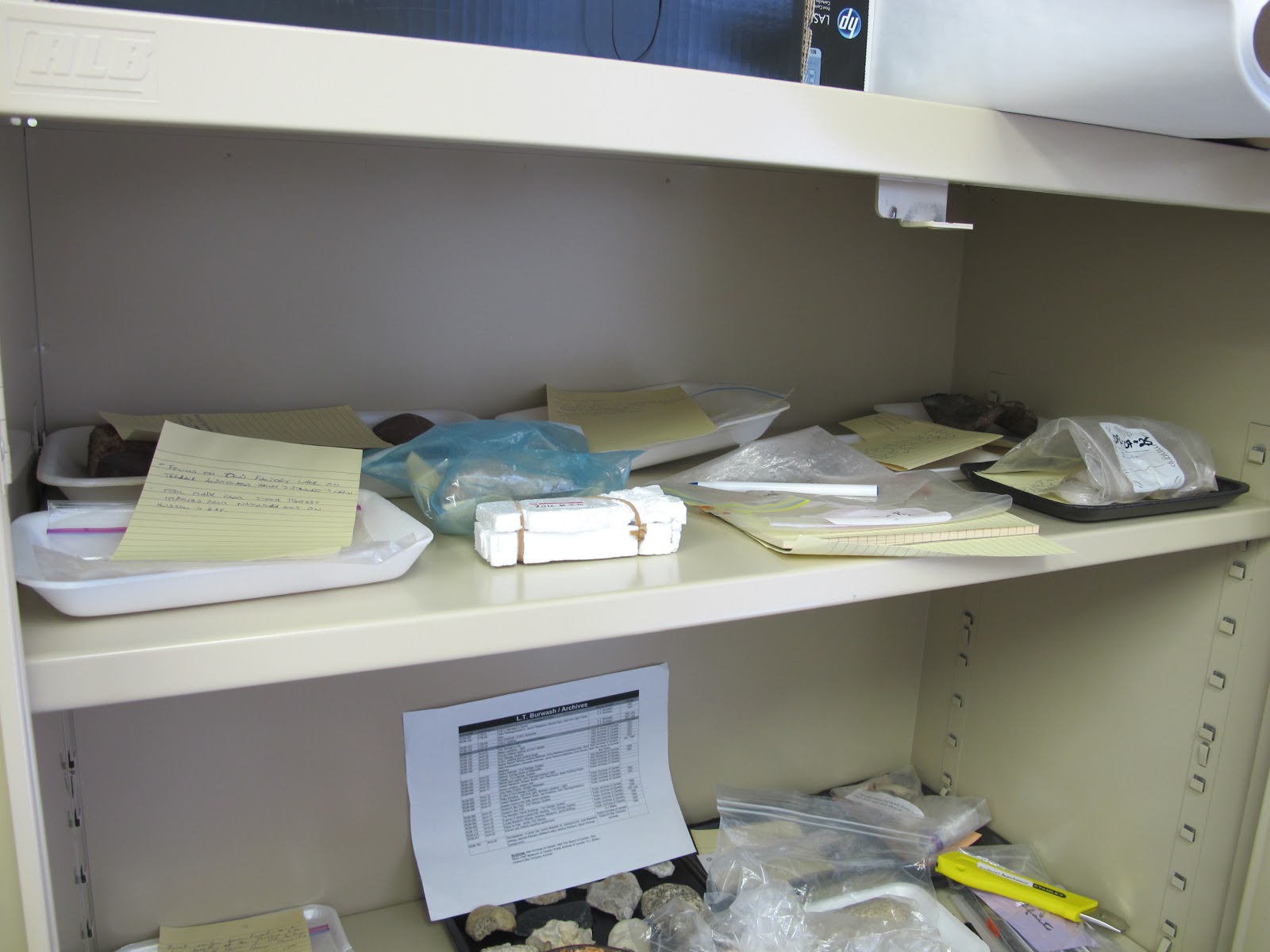 Notes gathered on the fossils collection.
The Wemindji Sound Archive is the culmination of a project to find and store music recordings and films from the region. The Archive is available for visitors to enjoy at a playing station on the premises.
Archive Poster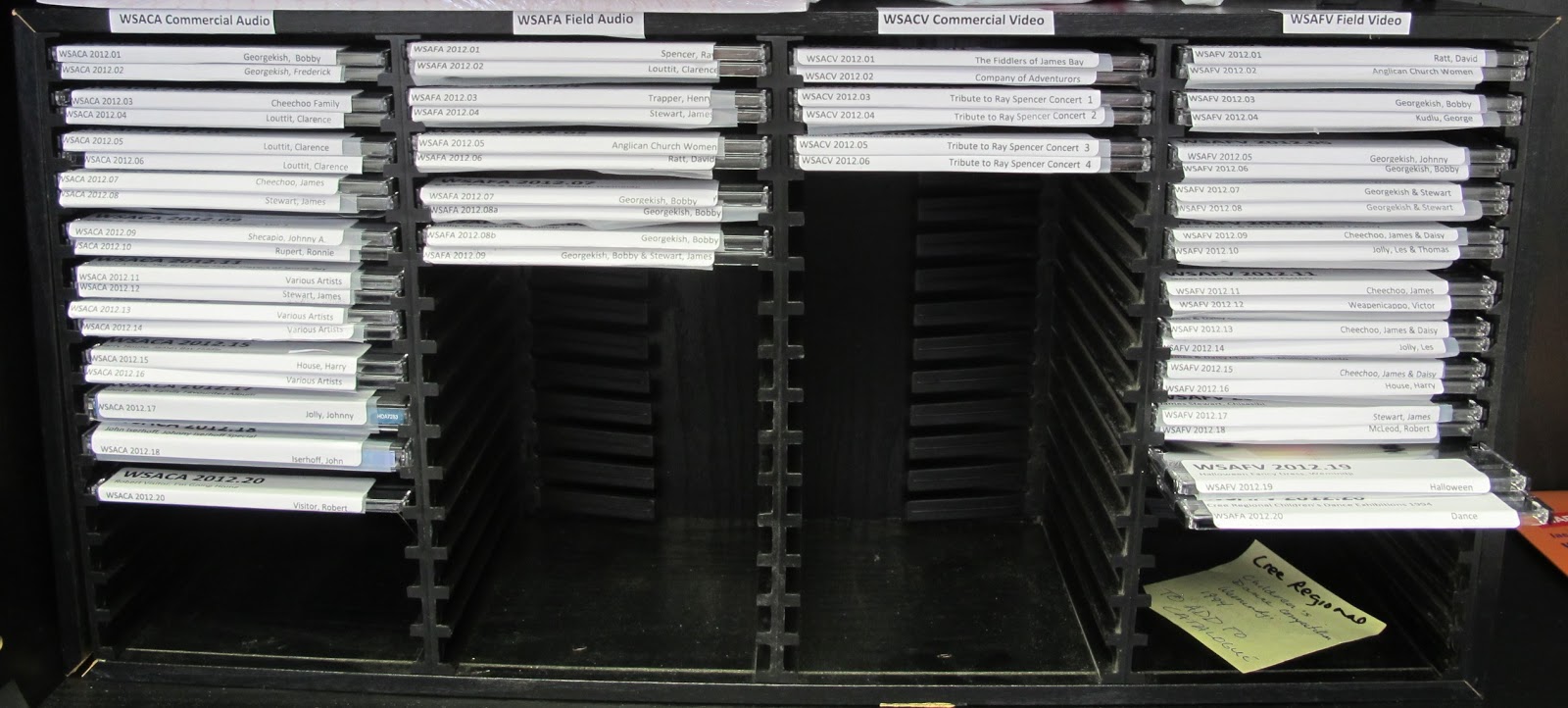 The Wemindji Sound Archive – available for visitors to peruse and enjoy.
Old recordings and films were tranferred to CDs to ensure they can be played in the future, as old
format players – like record, cassette, and VHS players – begin to fall out of use.
We were also introduced to the Place Names Project – a database of maps and audio bringing together personal stories of the land with specific geographic locations. The database may be searched with the assistance of staff.
Together we discussed cataloguing processes and the importance of backing up catalogue databases to off-site locations/servers in case of emergencies. We were also able to offer some tips on safe environments for artefact storage and display, as Kerry-Lynn moves the Cultural Centre to a new temporary space soon.
Then we went to the Cree Nation of Wemindji Adminstration Building and looked at the artworks and reproduced historic photographs that are currently on display. We talked about providing a safe, secure storage space for these items as the collection grows and works are rotated off the walls.
We finished our visit in Wemindji by meeting with Youcef Larbi of The Cree Mineral Exploration Board. Youcef showed us his collection of raw mineral samples and discussed his methods of collection and analysis. Through study of these mineral samples, Youcef can interpret the geological history of the James Bay region, and is able to discuss which properties of these natural resources have been desirable to the Cree overtime – for example, for tool making.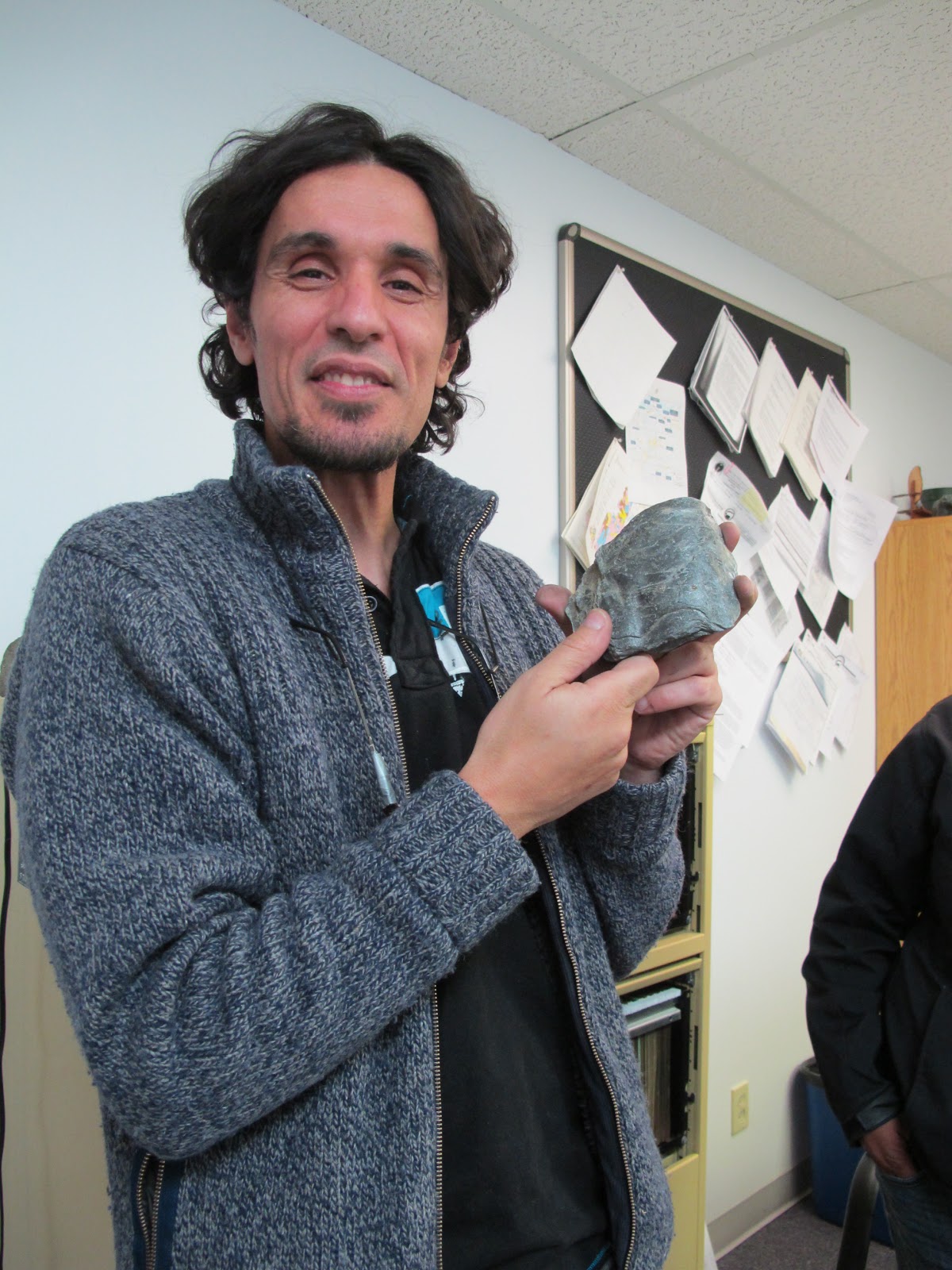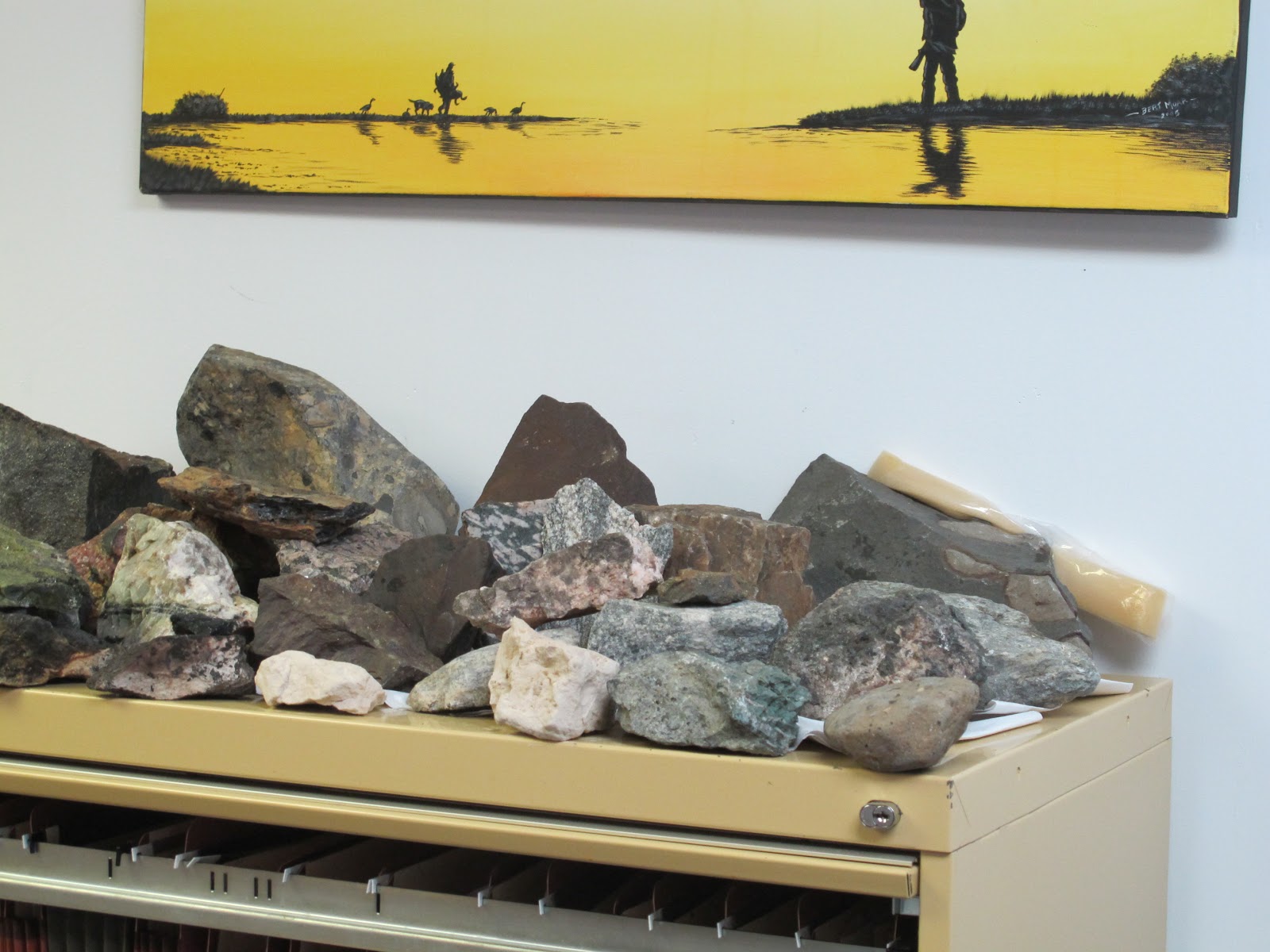 Youcef Larbi and part of his collection of rock samples from the James Bay region.
Then we made our way to Eastmain. In Eastmain we met with Deputy-Chief Johnny Tomatuk, who talked about Cultral Coordinator, Jamie Moses', project to collect, scan and reprint photographs from community members for display in the Cree Nation of Eastmain Administration Building. (We will talk to Jamie about his project when he returns to the office). We walked around the building and enjoyed looking at the results of the project – wonderful images capturing personal moments or aerial views of the community overtime that are safe for use in the office setting as they are non-original, scanned copies that have been hard-board mounted. This means that the original photographs will not be subjected to the harsh lights of an office setting, nor the knocks and spills of this busy space.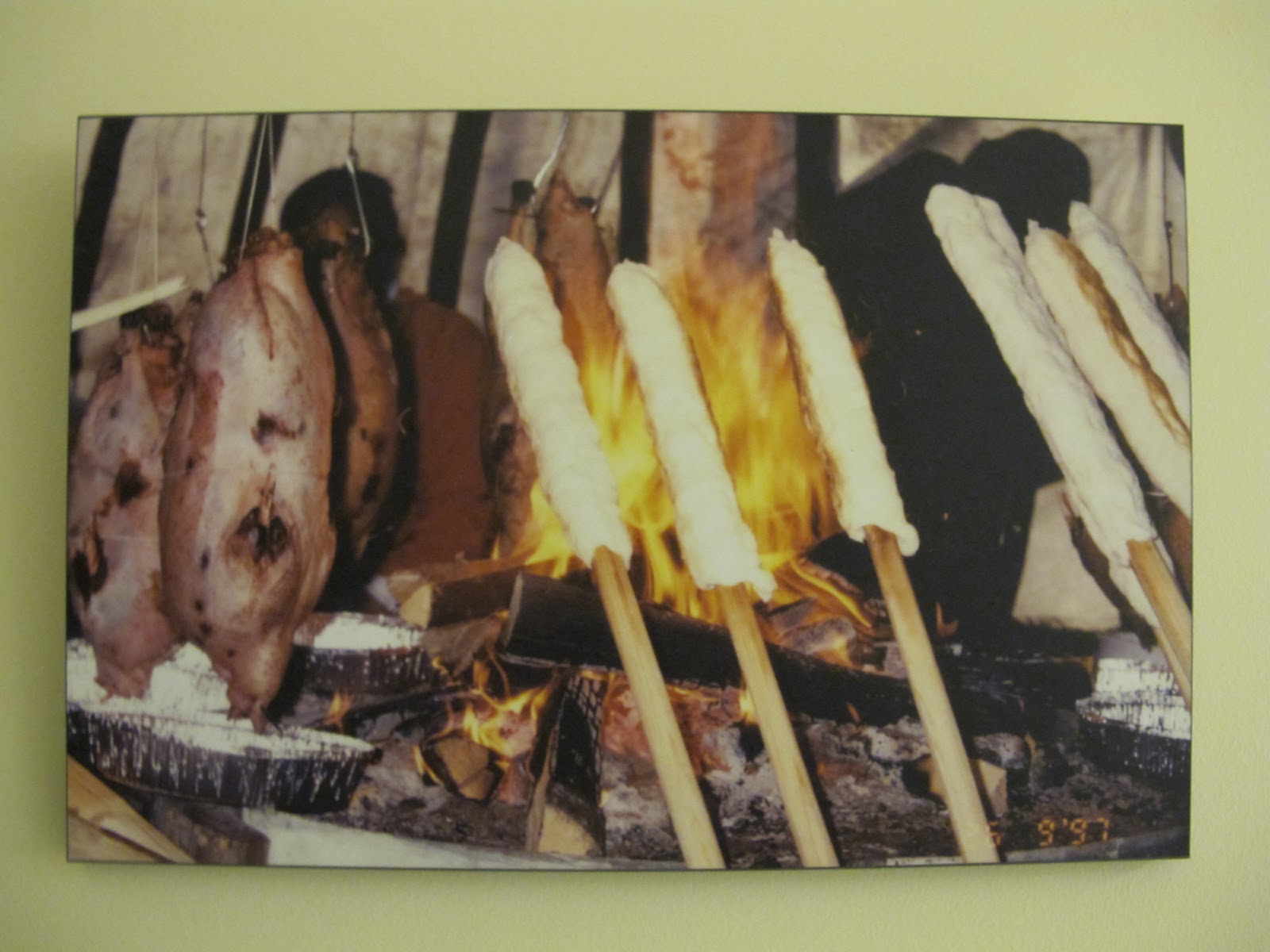 A reprinted photo mounted for display in the Cree Nation of Eastmain Administration Building.
Next, we visited the Cultural Centre to look at photos of local elders that are hung around the building. We were fortunate to find a community member who could identify all of the individuals in the photographs – information which is easily forgotten with passing generations.
Finally, we made a personal stop: visiting Lisa's aunt Lillian Moses. We looked through Lillian's vast collection of photographs and discussed options for their documentation and preservation. Though Lillian has switched to digital photography in recent years, and is able to save image files in multiple places for safe-keeping, her decades of prints and negatives require special care in storage and handling to last.
Lisa and her aunt Lillian Moses look through family photographs together, discussing the people and stories they capture.
We are headed to Waswanipi and Mistissini next – a new schedule to follow soon!