The second phase of our visit in Waskaganish really had us on the go!
Stopping in briefly at the local radio station – Waskaganish siibi ayimuyabii – roles were reversed and WE were interviewed by Program Manager, Kevin Whiskeychan, for an on-air radio promo of the project. Then we had a chance to look at the variety of recording formats – reel to reel; cassette, mini-disk – that were used by the station overtime to record local music performances and conversations, and discussed digitization as an option for preserving recordings as players become obsolete.
We visited the Cree Culture classroom of teacher Ricky Jolly (Ecole Wiinibekuu School) and enjoyed his explanations of the making of traditional items, such as carved decoys, children's toys and natural traps and snares. He had decorated his classroom with displays of his own family heirlooms, providing inspiration for his students' projects. Ricky emphasized the importance of preserving traditional skills and knowledge, as well as the Cree language, and noted that he tries to record his father's Cree words for tools and materials – words that he himself doesn't know or has forgotten.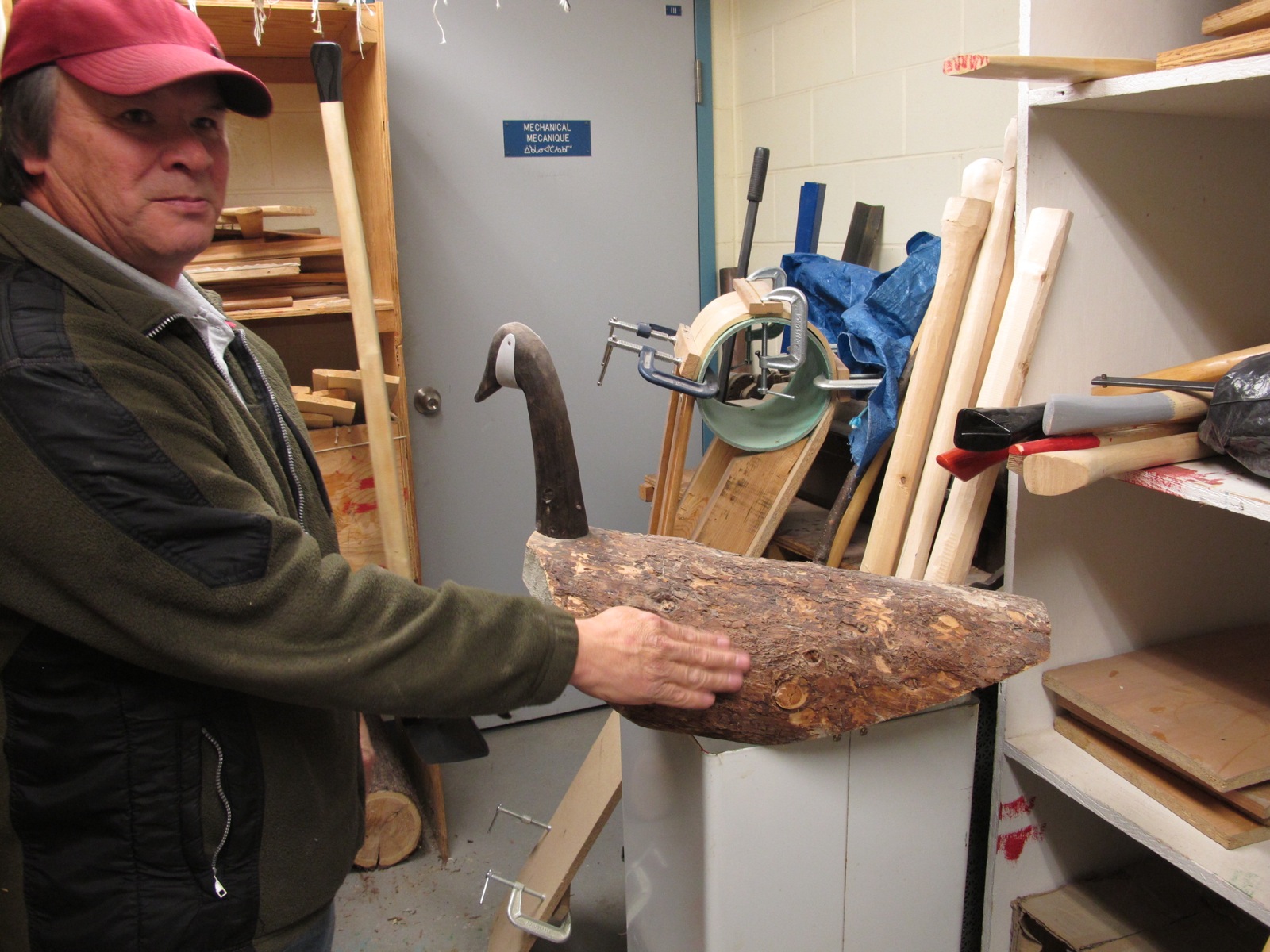 Cree Culture teacher Ricky Jolly talking about traditional methods of finishing carved goose decoys.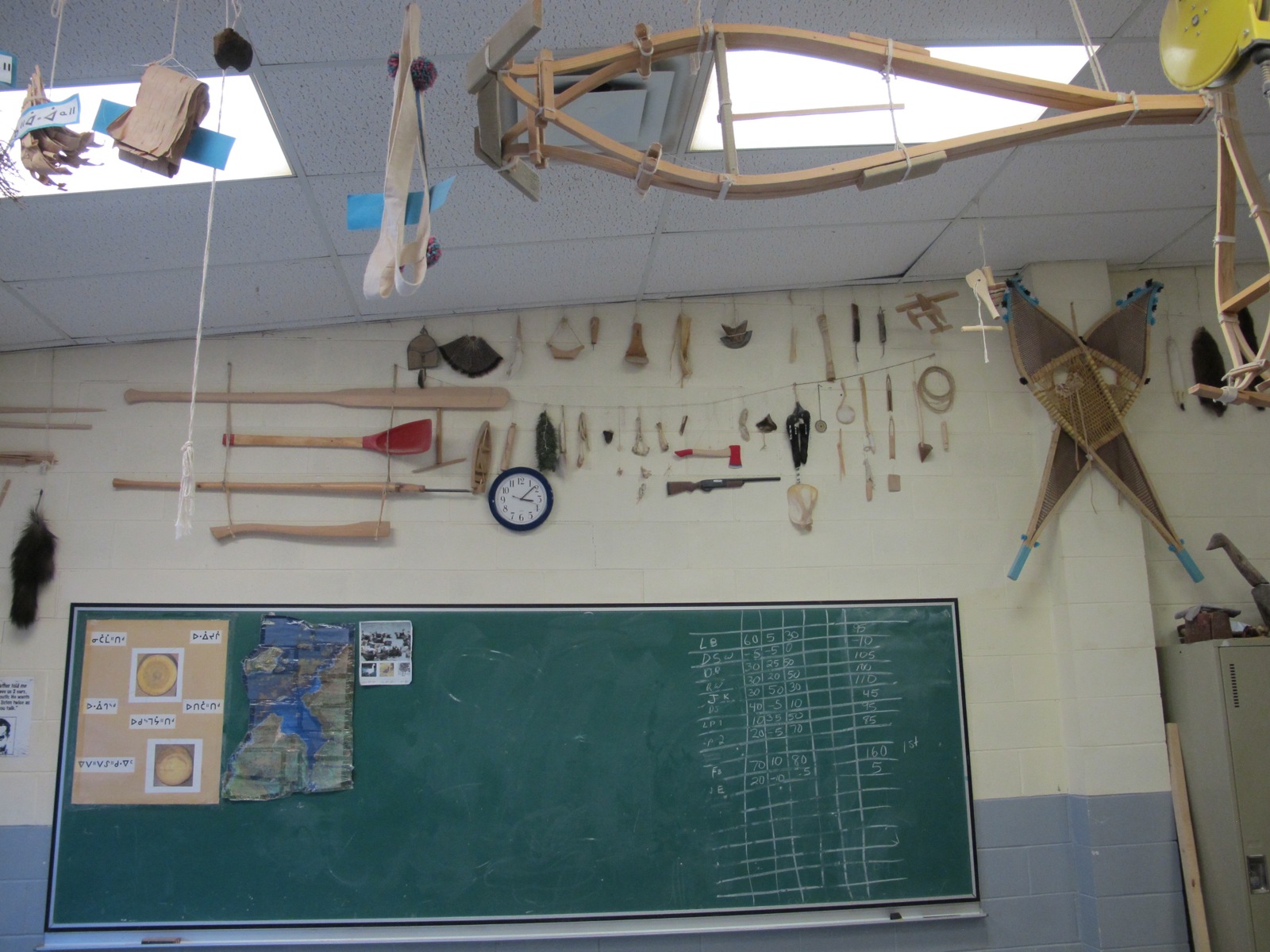 The Cree Culture classroom with traditional items on display.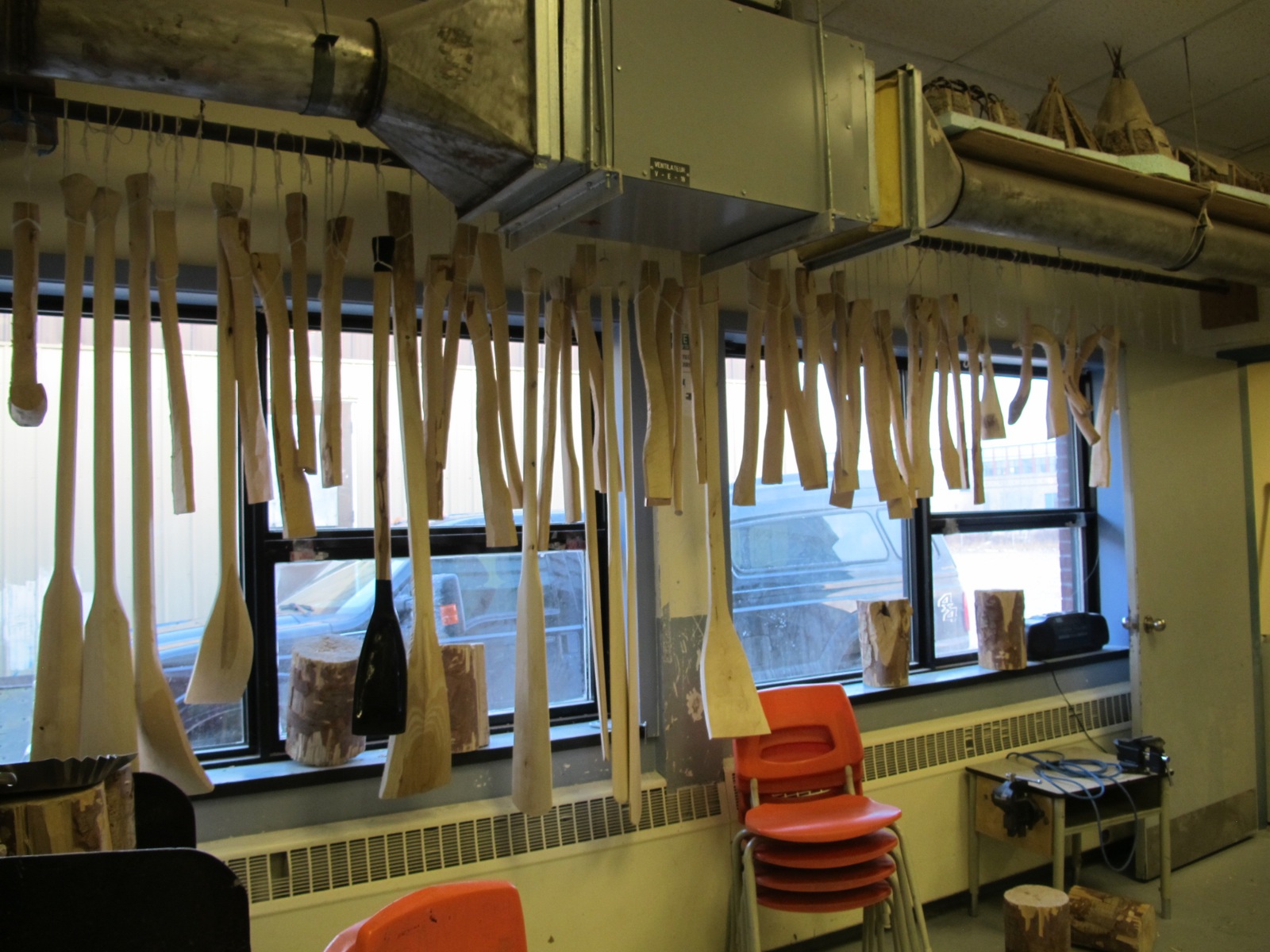 Another view of the Cree Culture classroom, with students' projects-in-progress (paddles, snow shovels, axe handles and goose heads) hanging from the ceiling.
George Katapatuk, retired from the Cree Trappers Association, showed us the impressive collection of pelts, taxidermy, fine art, photographs, crafts and historic artefacts displayed at the CTA office. The CTA keeps an inventory of the items on display, with a little information about the artist or crafts person who made them, or where they were found in the community, ensuring those aspects of their history are not lost.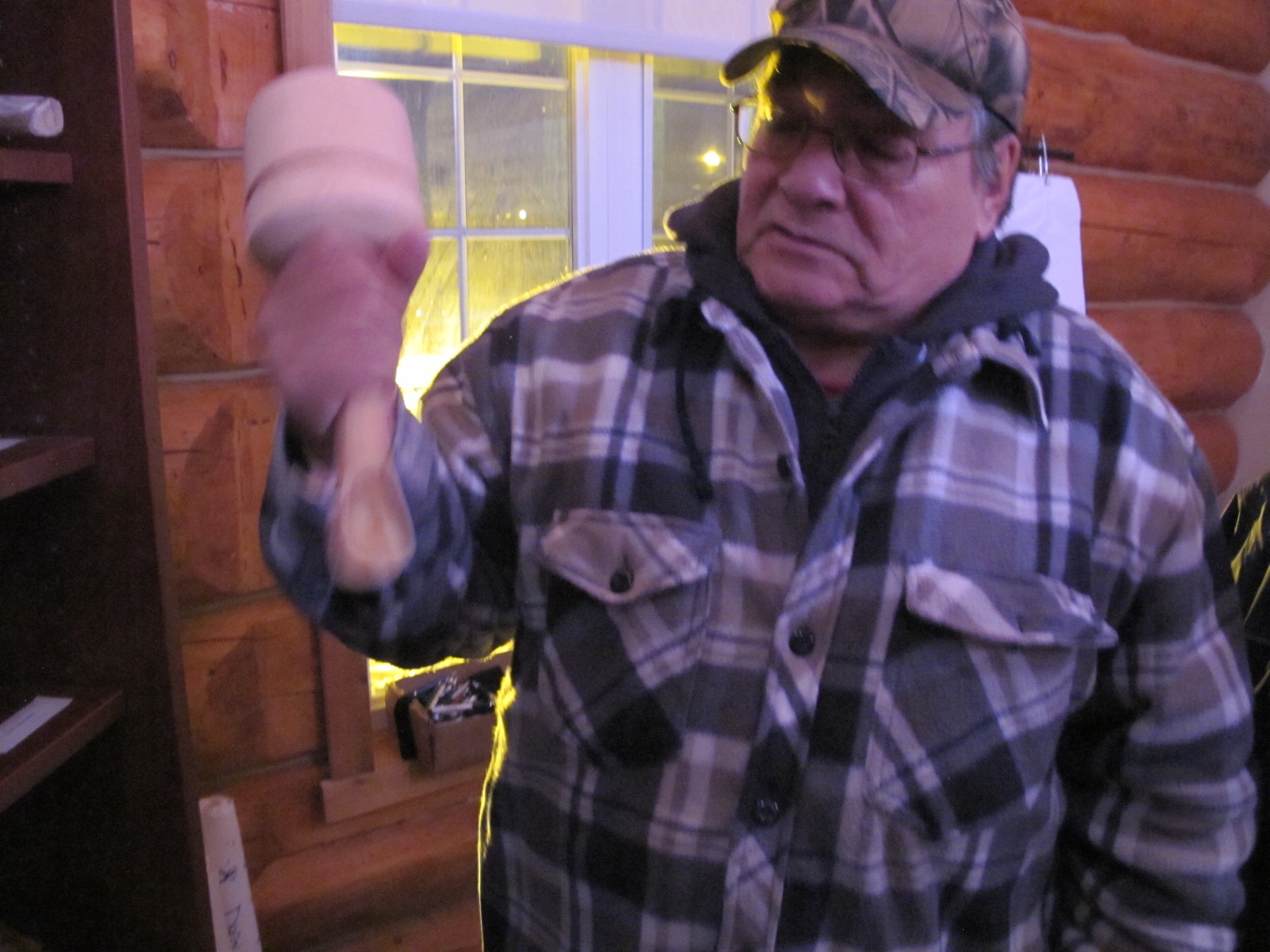 George Katapatuk demonstrating the use of a hide scraper – an item on display at the CTA office.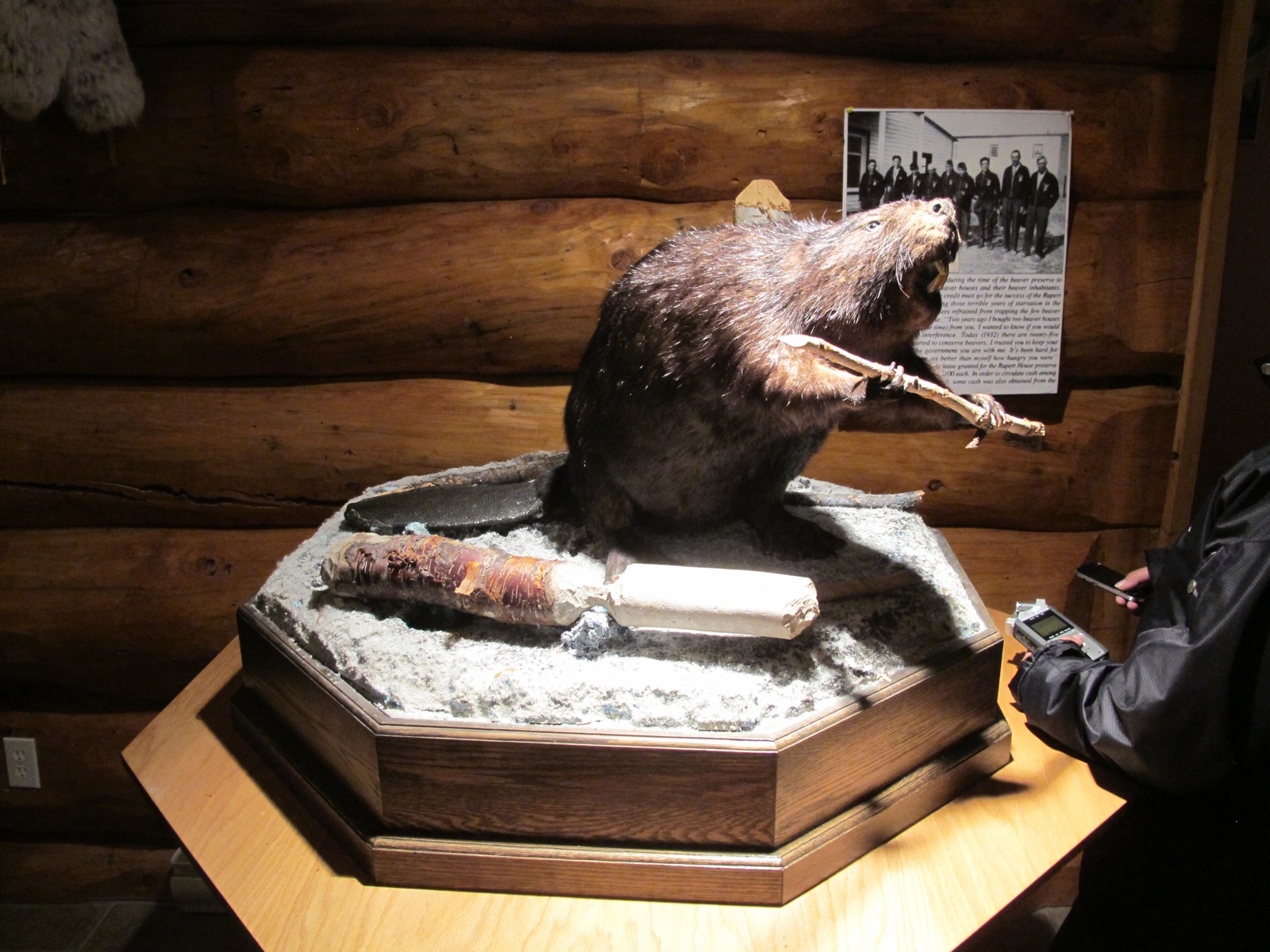 A taxidermied beaver is a featured creature in the CTA office.
Ian Diamond invited us to his home for a chat about his late father's, Chief Billy Diamond's, professional career, and showed us the archived speeches, photographs, awards, gifts, honorary degrees and office furniture that belonged to his father and remain in the care of the family. Ian asked for our recommendations for best storage conditions for papers and photographs, knowing that these items are sensitive to environmental damage – light fading, mould development, distortion when wet.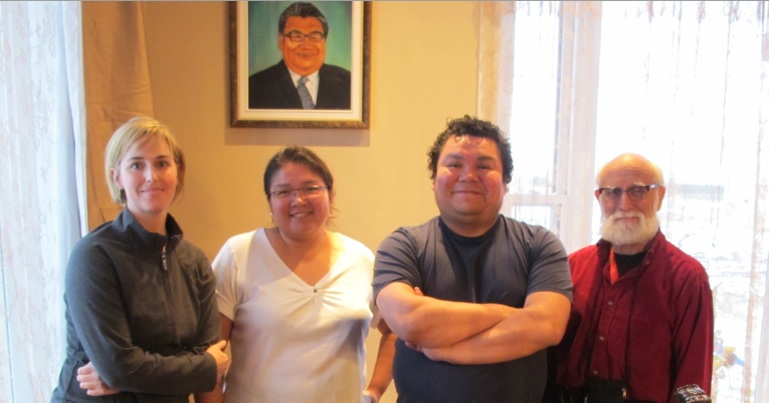 Claire, Lisa, Ian Diamond and Jim Chism stand in front of a painted portrait of the late Chief Billy Diamond (photo taken by Ian's brother Philip Diamond)
We had a morning visit with elders who showed us some prints they had saved from an old camp being demolished. The mats and frames had suffered water damage and mould, but the prints themselves were in good condition. We recommended that the prints be removed from their frames/mats and stored in a dark, dry space with good air circulation for long-term preservation.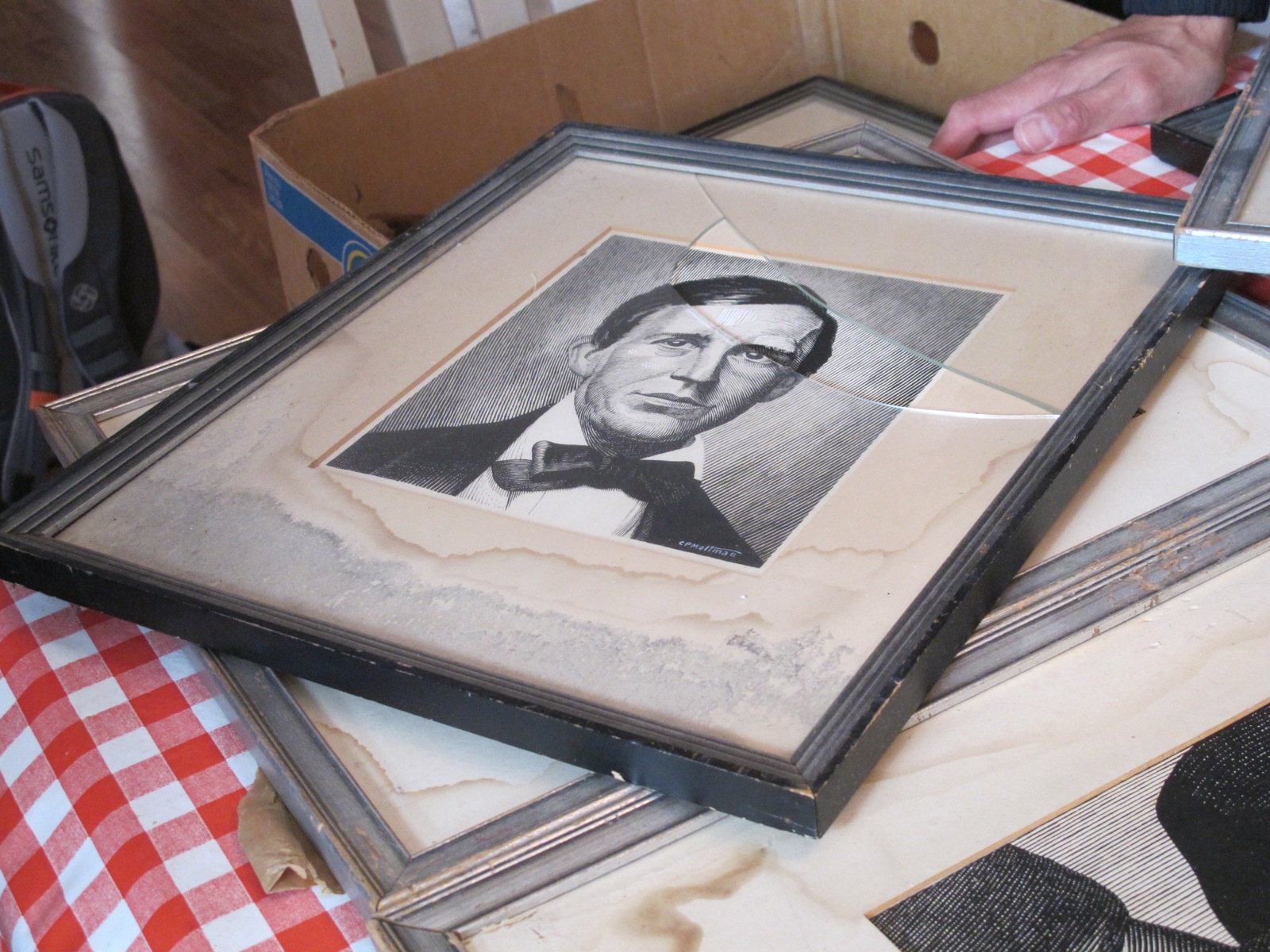 The frame and mat surrounding this print have been damaged by water and mould, and the glazing is broken. To ensure its safety, the print should be removed, cleaned to remove any mould contamination, and placed in a dark, dry space with good air circulation.
Then we stopped by the old log house last owned by John Blackned. The house had changed ownership several times before becoming the Blackned home, and his and artefacts from earlier times are now on display at the Waskaganish Cultural Institute and CTA, among others.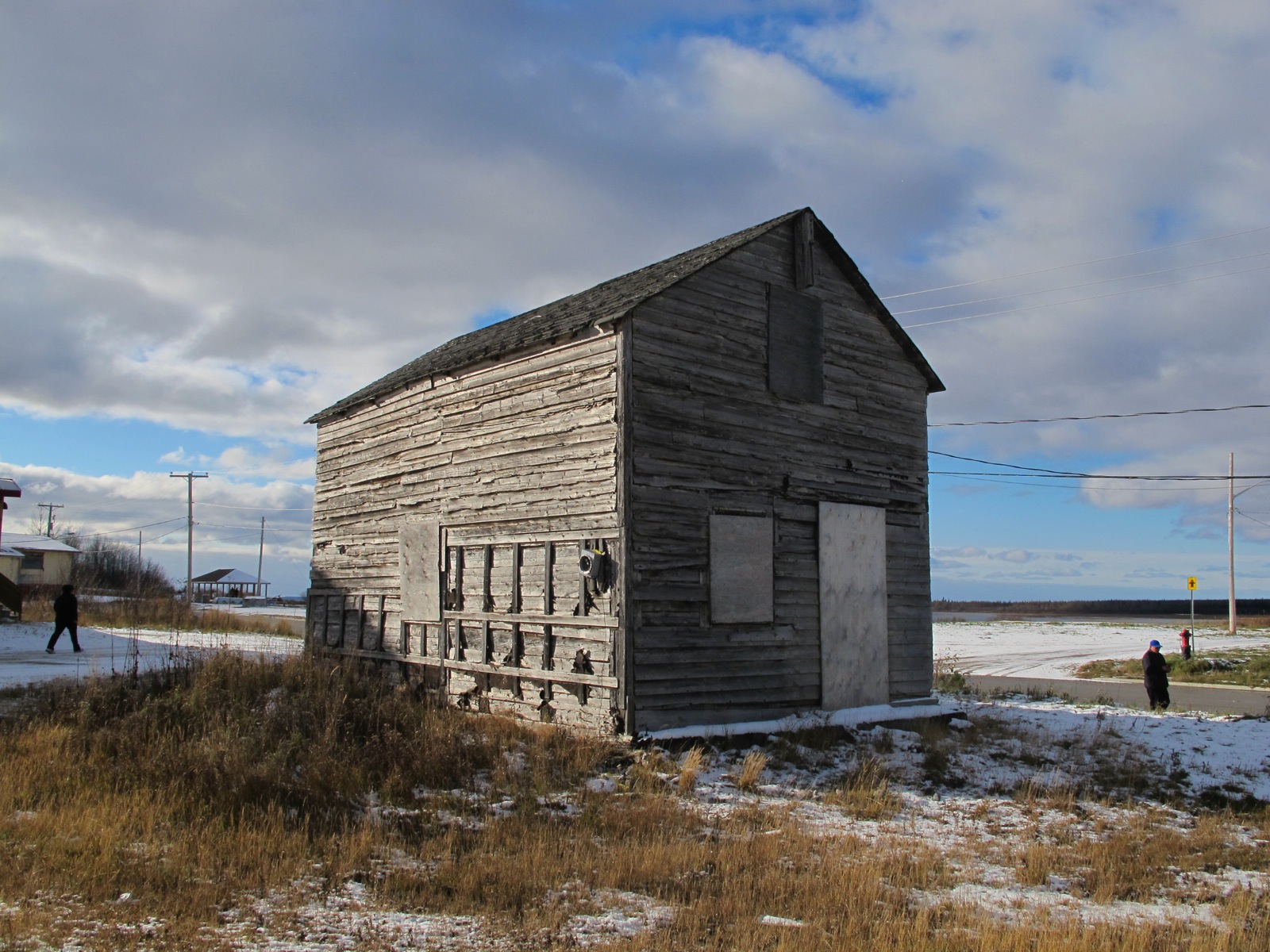 The "John Blackned House" where John Blackned and his wife lived circa. 1908.
We ended the day with an an evening visit with Rev. Gladys Matoush at St. Peter's Anglican Church, and took a peek at the old, well-worn Bibles used by many generations of the Church's congregation.
We were fortunate to spend our final visit with eminent local artist Tim Whiskeychan, who is also the Cultural Coordinator for Waskaganish. We felt privileged to see Tim's home studio, with his original studies, works in progress and finished pieces. Tim also showed us his collection of Cree traditional items which he uses for inspiration.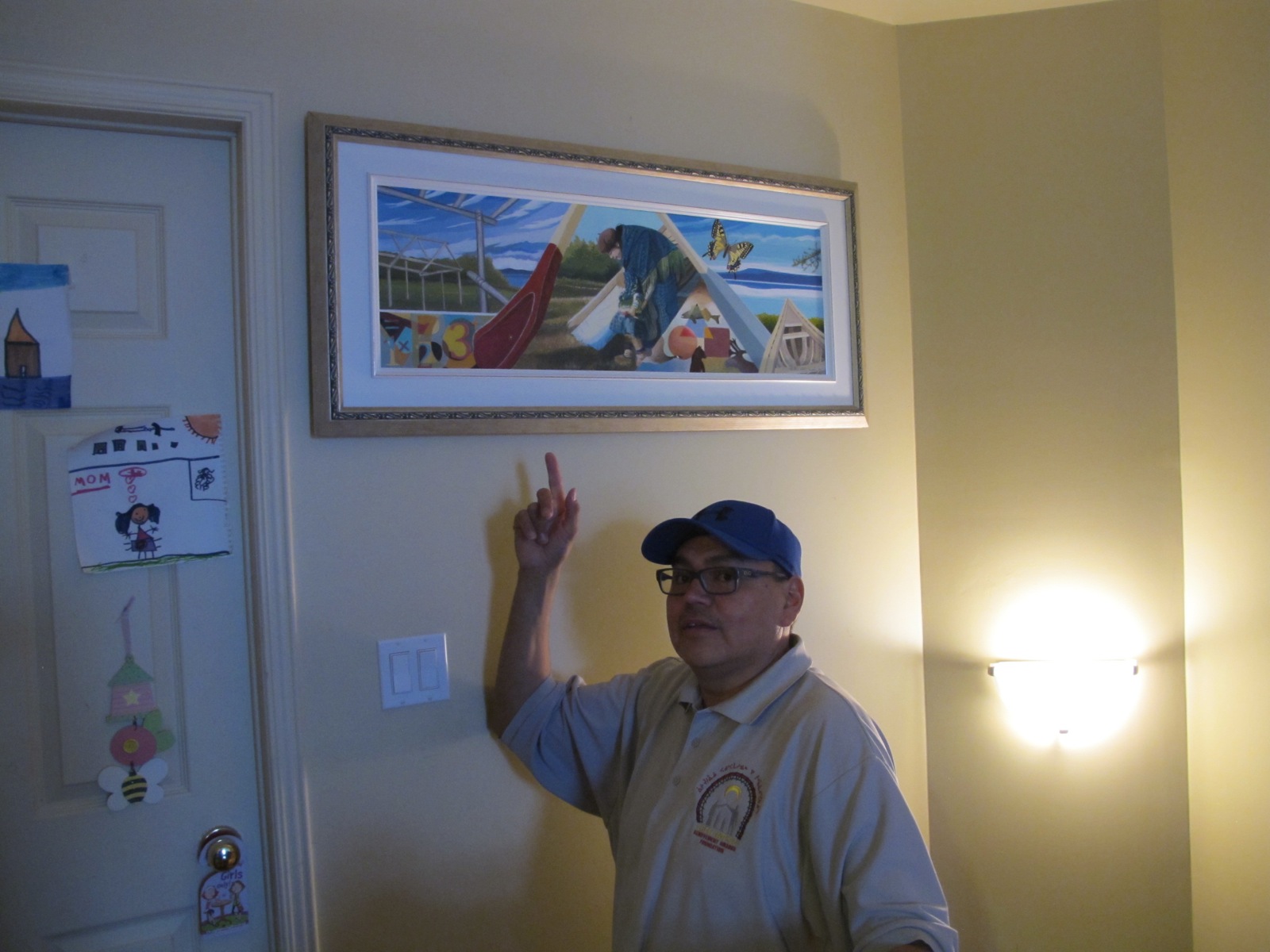 Artist Tim Whiskeychan showing us the works he displays in his home. Aware of and keen on preservation, Tim rotates the locations of his paintings in his house so that they do not receive long-term strong light exposure.
Time flies and now we're headed off again! Headed home to Ouje-Bougoumou, and then to Wemindji, Eastmain, Waswanipi and Mistissini.
– Ouje-Bougoumou: November 8 – 9
– Wemindji: November 12 – 14
– Eastmain: November 14 – 16
– Waswanipi: November 19-20
– Mistissini: November 21 – 22
– Nemaska: TBD