39th Anniversary of the James Bay and Northern Quebec Agreement 
1975-2014

This year marks the 39th anniversary of the James Bay and Northern Quebec Agreement. It is important to honour the young Cree leaders that were asked by community elders to lead the fight during the negotiations of the James Bay and Northern Quebec Agreement. Let's extend our appreciation and respect to the dedicated and courageous Eeyou leaders who against tremendous odds fought for our rights in the 1970's and let's honour the Eeyou signatories of the JBNQA: Chief Billy Diamond 
Chief Robert Kanatewat 
Chief Fred Blackned 
Chief Matthew Shanush 
Chief Peter Gull 
Philip Awashish 
Smally Petawabano 
Chief Joseph Petagamaskum 
Chief Bertie Wapachee 
Abel Kitchen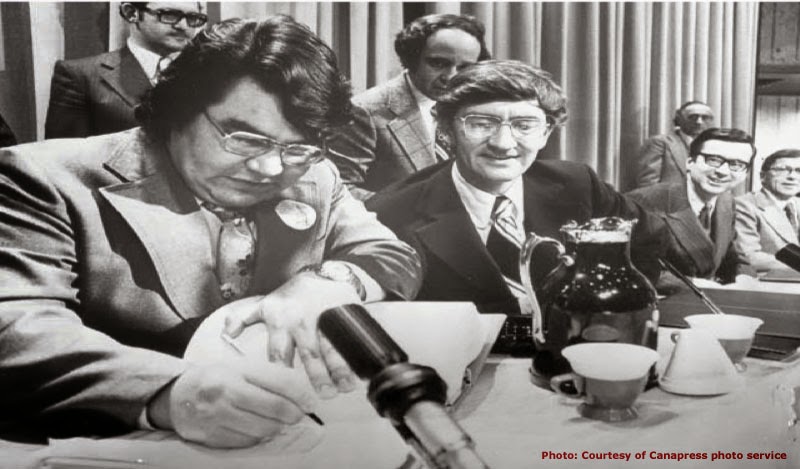 On April 1, 1971, without consultation with the Eeyou of Eeyou Istchee, and without our consent, Premier Robert Bourassa announced the James Bay Hydroelectric Development Project describing it as "the project of the Century". Eeyou/Eenouch immediately opposed the project and initiated court proceedings to stop the intrusion into Eeyou territory. Since then, the unfolding of events that followed the announcement of hydroelectric development within Eeyou Istchee has dramatically changed the course and direction of Eeyou/Eenou history. 

The decision of Judge Malouf of the Quebec Superior Court in November 1973 resulted in an order to immediately stop to the construction of the James Bay Hydroelectric Development Project within the Cree territory. Although the Quebec Court of Appeal overturned this judgment, Quebec and Hydro Quebec were obliged to negotiate with our people. The result of these negotiations was the James Bay and Northern Quebec Agreement signed on November 11, 1975—our Treaty and the basis for future successes.

The signature of the JBNQA marked the beginning of our long journey towards the recognition of our rights, the dramatic improvement of the living conditions in our communities, the recognition of the requirement for Cree consent for any development in our traditional territory, the advancement of our system of governance and the continuation of our Cree way of life based on our special relationship with our traditional territory-–Eeyou Istchee.
Written by April Pachano, GCCEI/CNG