Attending the 2019 SICC ē-micimināyakik Gathering by Annie Bosum
I had the honour to attend the 2019 SICC ē-micimināyakikGathering hosted by the Saskatchewan Indigenous Cultural Centrein SaskatoonMay 2-3, 2019. There, I presented the Brian Deer Classification System, which we are using in the Aanischaaukamikw Library and debriefed on
the functions and spaces of theAanischaaukamikw Cultural Institute.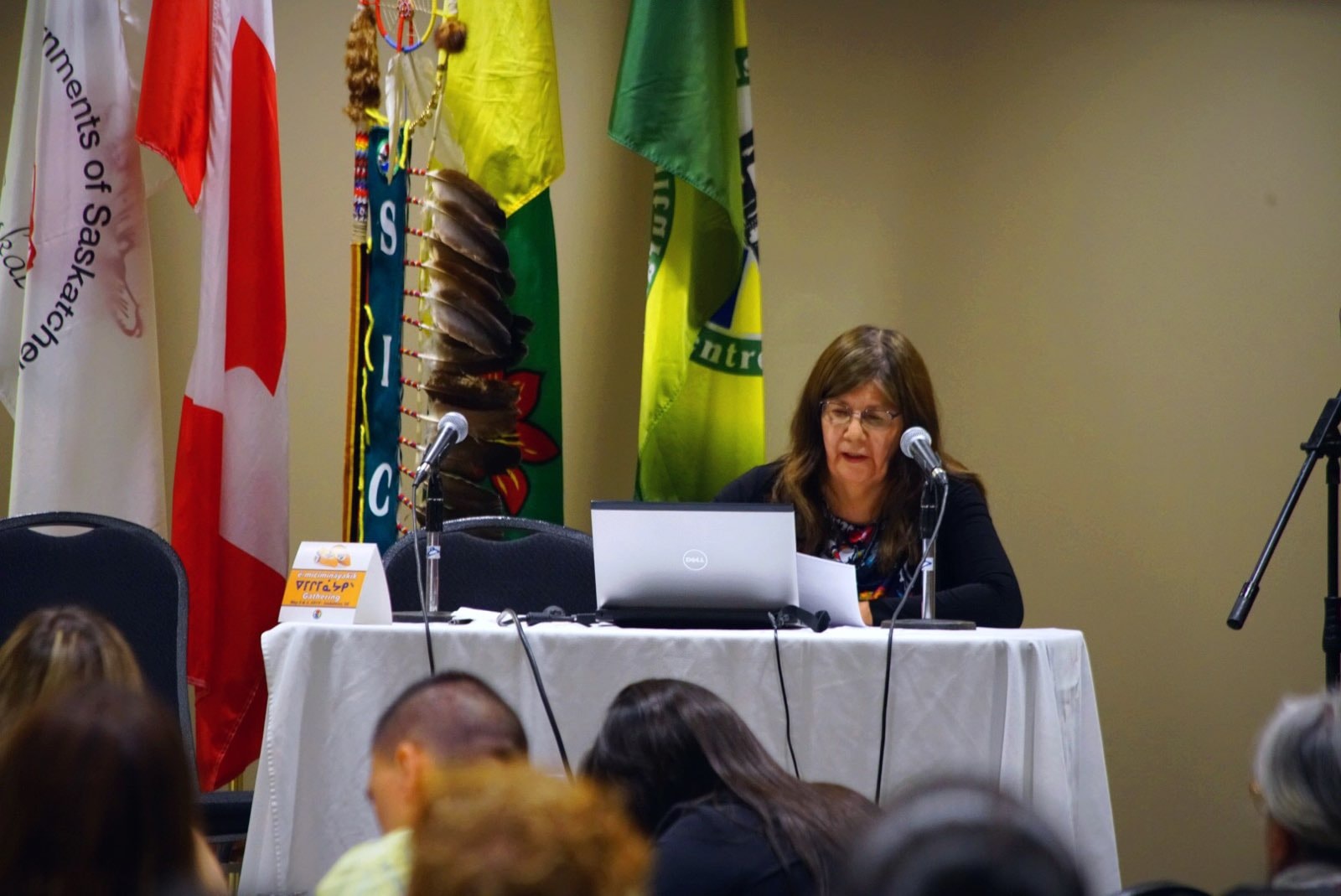 Annie at the conference, from the SICC event Facebook page
This two-day indigenous gathering was held at the Ramada By Wyndham
Saskatoon with various keynote speakers, panels and workshops. The event provided opportunities for sharing
indigenous knowledge and networking from curators, archivists, librarians,
researchers and museum professionals. It
was also a great way toshare issues, ideas, progress and solutions for
First Nations museums, cultural centres, archives, interpretive centres and
libraries. It was very interesting to
see all the different indigenous nationalities coming together to share their
knowledge, expertise and their ways of preserving and protecting their cultural
heritage. Among the nationalities who
participated in this event were Plains Cree, Nakoda, Ts'msyen/Cree , Haida,
Dene, Metis, Chippewa,, Pueblo, Saulteau, Anishinaabe ,Cree and Mohawk!
The first day opened with an early morning pipe ceremony by
Elder William Ratfoot proceeded by opening remarks by the emcee, JR McArthur, the Federation of Sovereign Indigenous Nations, the SICC Board of Governors Chief Alvin Francis and SICC President Wanda
Wilson. The first day was relaxing for
me- I wasn't on any of the panels and workshops-which I was happy with because
I was still tired from all the travelling. I had the wonderful opportunity to sit and listen to some good presenters
on the subjects of Indigenous Intellectual Property : Arising Questions by Val
Napoleon, Saulteau and Indigenous Collections: Valuing Our Cultural Heritage
and Intellectual Property by Sean Young , Haida and Robin Gray,
Ts'msyen/Cree. Elegant and nourishing
lunches were served both days which made it easy for the delegation to return
to their panels and workshops. There
were five workshops and two panel discussions were held in various rooms
throughout the afternoon. One of the
panels I got to listen to was entitled: Preparing Our Peoples: indigenous
Education in Cultural Preservation & Property Law by Jessie Ryker-Crawford,
Filipe Colon, and Val Naploeon. The
gathering ended with a thank you prayer by Elder William Ratfoot.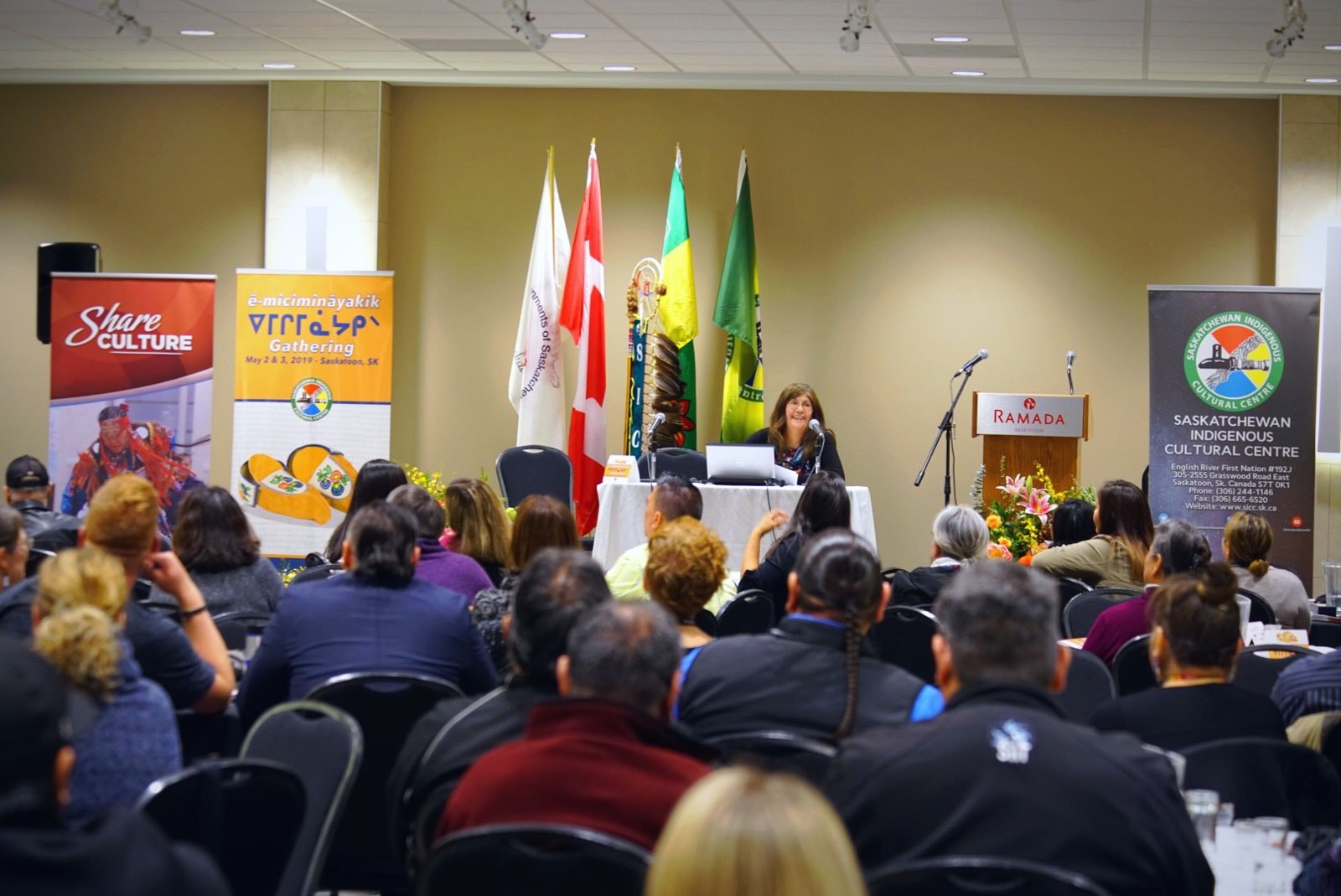 Annie at the event, from the SICC Facebook event page.

The second day I was a bit apprehensive knowing I had to
participate in two presentations, the first was at 10:30 am and the other at
1:00 pm. I quickly felt at ease when I
met my first workshop partner, Audrey Dreaver because of her warm and kind
personality. When I entered the room where
we did our workshop, she was already sitting with the coordinator putting
together my slide, she looked at me sitting in the audience and she says, "Annie
get up here, I'm not sitting here by myself!"
The audience laughed with us! Our
Workshop presentation was called: Politics of Museum Technology: Labels &
Categorizations of Indigenous Material Culture.
The second presentation I participated in was on Panel 3 where I was
supposed to sit with Del Jacko and Hillary McLeod who were both Anishinaabe. I got confused with all the different rooms,
I ended up in the wrong room and by the time I got to the right room my
partners were a little into their discussion so I told the coordinator I didn't
want to distract them so I had to do my presentation alone. I was nervous at first but as I looked at the
huge audience in front of me and saw their interest manifested on their faces,
I switched my focus away from myself to a need to give them what they came
there for.

Our Panel discussion was
called: Access to Indigenous Cultural Knowledge (Archival Material). A few people approached me after my
presentation to give me their business cards, and told me they enjoyed my
presentation-one even requested to send them my slides! Unfortunately I was
unable to discuss the Brian Deer Classification System poster in detail due to
time restraints. I was disappointed that
I was unable to listen to all the other workshops and panel discussions that
were held in various rooms. All in all,
I really enjoyed this conference and meeting all the people. It was a great learning experience- which
goes to prove – learning is a life-long achievement that is to be appreciated
and taken when it arises and I am glad that the Saskatchewan Indigenous
Cultural Centre (SICC) and the Aanischaaukamikw Cree Culture Institute made
this learning experience possible for me. It was a proud moment and an awesome closure when the President of SICC,
Wanda Wilson said to me. "I like what
Aanischaaukamikw is doing and we are coming to visit your community!