This past summer I worked as an archives intern at
Aanischaaukamikw. My main tasks were to research existing archives in
institutions and organisations in Gatineau, Ottawa and Montreal, to gather
digital copies of the material for researchers to use when they visit
Aanischaaukamikw. I was included in some of the other activities that
Aanischaaukamikw had organised over the summer. For example, I was fortunate to have the opportunity of visiting a few of the painted caribou coats at the Canadian Museum of History, and the National Gallery of Canada, in June 2018 – by far, my favourite adventure of my summer internship.


This research trip was organized by Aanischaaukamikw Cree Cultural Institute and funded by the Canada Council for the Arts, as part of a bigger project to rediscover our
traditions of painting on caribou hide in Eeyou Istchee. Delegates, including Elders and young adults like myself were from Whapmagoostui, Chisasibi, or Wemindji, travelled to Gatineau-Ottawa for this event.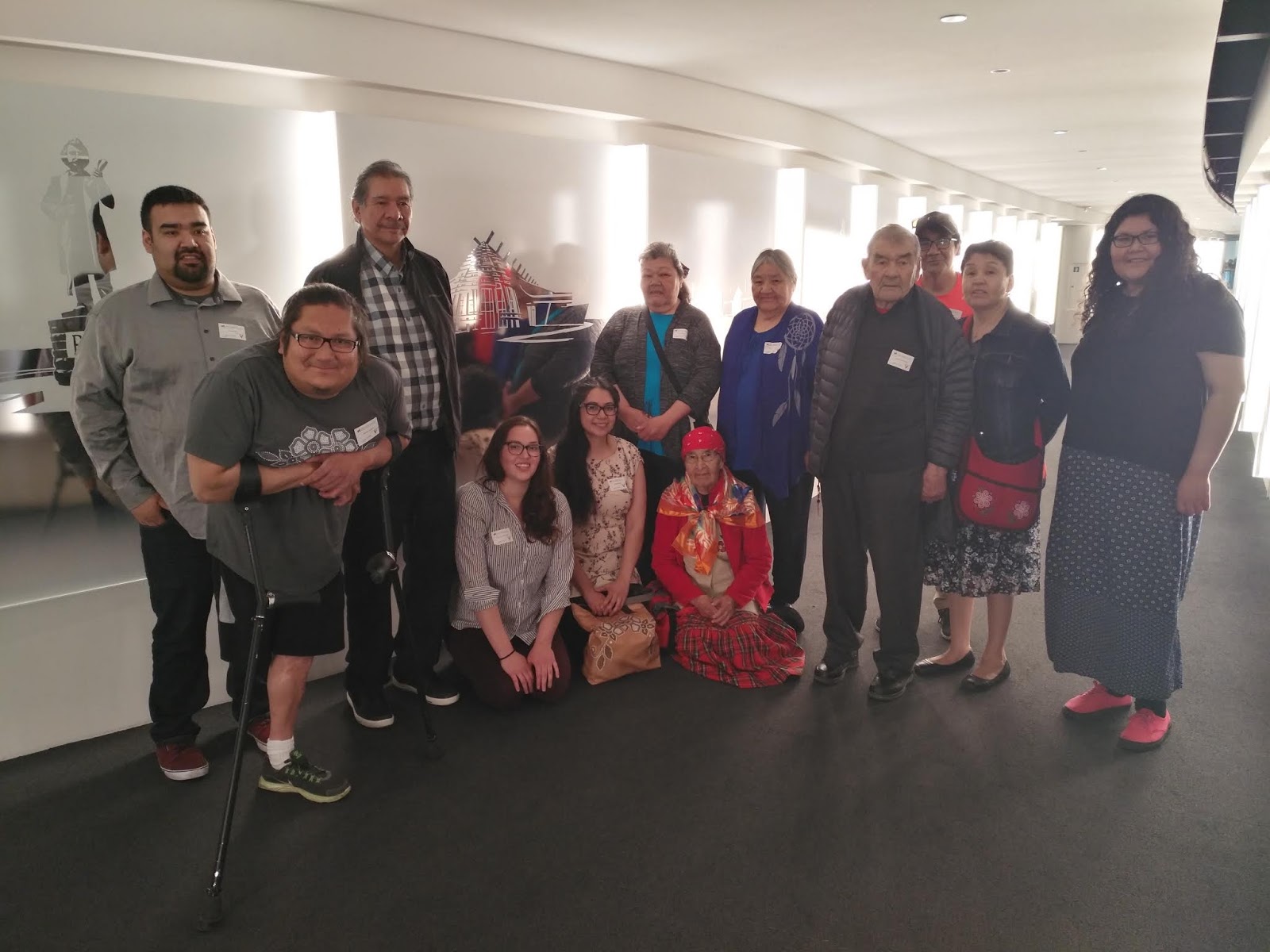 Photo 1: Our group [L-R: Donny Dick, Matthew Iserhoff, Matthew Mukash, me, Natasia Mukash, Jean Masty, Jane Matthew, Nancy Sheshamush, Lawrence Matthew, Jerry Gull, Emily Sam, Charly Gilpin]. We are standing in front of the mirrored abstract image of the Aanischaaukamikw building that is in one of the corridors at Canada Museum of History. Photo: Laura Phillips
Our first museum visit was at the Canadian Museum of History [CMH]. Honestly, I didn't know what to expect. I mean, what do you expect when it's your first time being behind the scenes in the museum? When I walked into that room, I saw a field of painted coats along with different objects laid out on tables. I was too amazed to believe what was in front of me at that moment. I was scared to break anything if I touched it. The Elders discussed the painted coats and I
learned some of the history of the coats in our region. We went on a tour to
see the museum's cold storage rooms (used for furs and organics) and the
storage room for oversized collections like skidoos and toboggans.
These are some of the highlights from that day:
Here is a photo of a women's cap made by Mimie Cheezo from Eastmain, Quebec in 1962; A pair of female leggings (used for 2 generations) made by Daisy Cheezo from Eastmain, Quebec in 1962; A band for a shell bag made in 1963 by Louise Cheezo also from Eastmain, Quebec.
Photo 2: Woman's cap [III-D-156] made by Mimie Cheezo, Eastmain, 1962. Photo: Alycia Lameboy-Dixon.
















































Because of the sequence of absorbing new information, as much as my day felt very long, I learned so much. I spent a few hours just googling the definition of the terms I heard that day.
Photo 3: Woman's leggings [III-D-115] made by Daisy Cheezo, Eastmain, 1962. Photo: Alycia Lameboy-Dixon.
Photo 4: A band of a shell bag [III-D-214] made by Louise Cheezo, Eastmain, 1963. Photo: Alycia Lameboy-Dixon.
The second day was interesting in different ways. With the help of the curators and other collections staff at CMH, the coats were gently flipped over so we could see the designs on the back. Elder Jane Matthew from Chisasibi shared her memories with everyone, and the stories she heard from her grand-parents, that they heard from their grand-parents. I was standing nearby Emily Sam (daughter of Jane and Lawrence Matthew) as she was analyzing the designs on the painted coats.
Emily shared with me that back in the day, our chief would be given a ceremonial caribou hide coat with painting on it. The Elders think our ancestors used lines to represent path ways, the dots to represent people that the chief led and if you look closely, you can see the symbols, or nearly read their story.
Photo 5: Painted caribou coat [45973] on display at the National Gallery. Photo: Alycia Lameboy-Dixon.
On the third day of our trip, we spent our morning visiting the National Gallery of Canada [NGC]. The NGC curator and the exhibition coordinator introduced themselves and presented the painted coat that is in the Indigenous Arts Exhibition. There is no known information about the maker of the coat, apart from that it is called 'Naskapi', like all coats of this kind – however, the research project is uncovering many links between these coats and Eeyou Istchee (more details to come on that when research is in later stages).

The details on this coat are captivating. Although handling of the object was limited, I think everyone was in awe to see this one.
Throughout the trip, I
chatted with our elderly delegates and I learned a lot! My questions came out
of curiosity, questions I would never think to ask. What I learned from them
was that there is no such thing as asking silly, or too many, questions.
Questions are how you show interest in wanting to know about your history, and
our elders have so much knowledge and experience to share with us. They answer
without judgement, and this is the main reason I enjoyed this trip so much.
I'd
like to thank everyone in the group for this wonderful immersion in Eeyou
culture. This experience enhanced my understanding to why we need to document
OUR Eeyou / Eenou history, the real stories of our people, from our own
perspectives. There is so much of our history that needs to be shared with my generation,
as we learn what it means to be Eeyou in 2018. Considering the amount of Indigenous History that is still yet to be documented, we need to get to work using the expertise that we, as Eeyouch/Eenouch, have to interpret our own history using the knowledge passed to us from our ancestors, which we will, in turn, pass on to the next generations.
This summer experience also made me want to shift my career path to focus on museums. Which I think will happen lol …