My
Young Canada Works internship with Aanischaaukamikw Cree Cultural Institute
(ACCI) as the Collection Assistant was filled with many
different kinds of scholarship and opportunities to learn a variety of new
things on the job. It has been an amazing opportunity getting to work with
different staff members and learn from them; not only about the jobs they do
but about the wonderful community of Ouje Bougoumou.
Being
a member of the Collections team meant we had to design and build a display
stand for My Grandmother's Garden, a
large framed artwork on loan to the museum from Flora Weistche of Waskaganish.
This project was one of these skills building moments. The project was a labour
of love and a group effort between the Conservator, the Registrar, the Programs
Director and the Facilities Director. Each person had different idea and
concerns and we all came together to create a sensible, sturdy and safe stand to
support the artwork. This was an excellent demonstration to me of the types of
teamwork that are required in museums.
Personally, it was a chance to work on my power tool skills and brush up
on my math abilities to make sure everything lined up.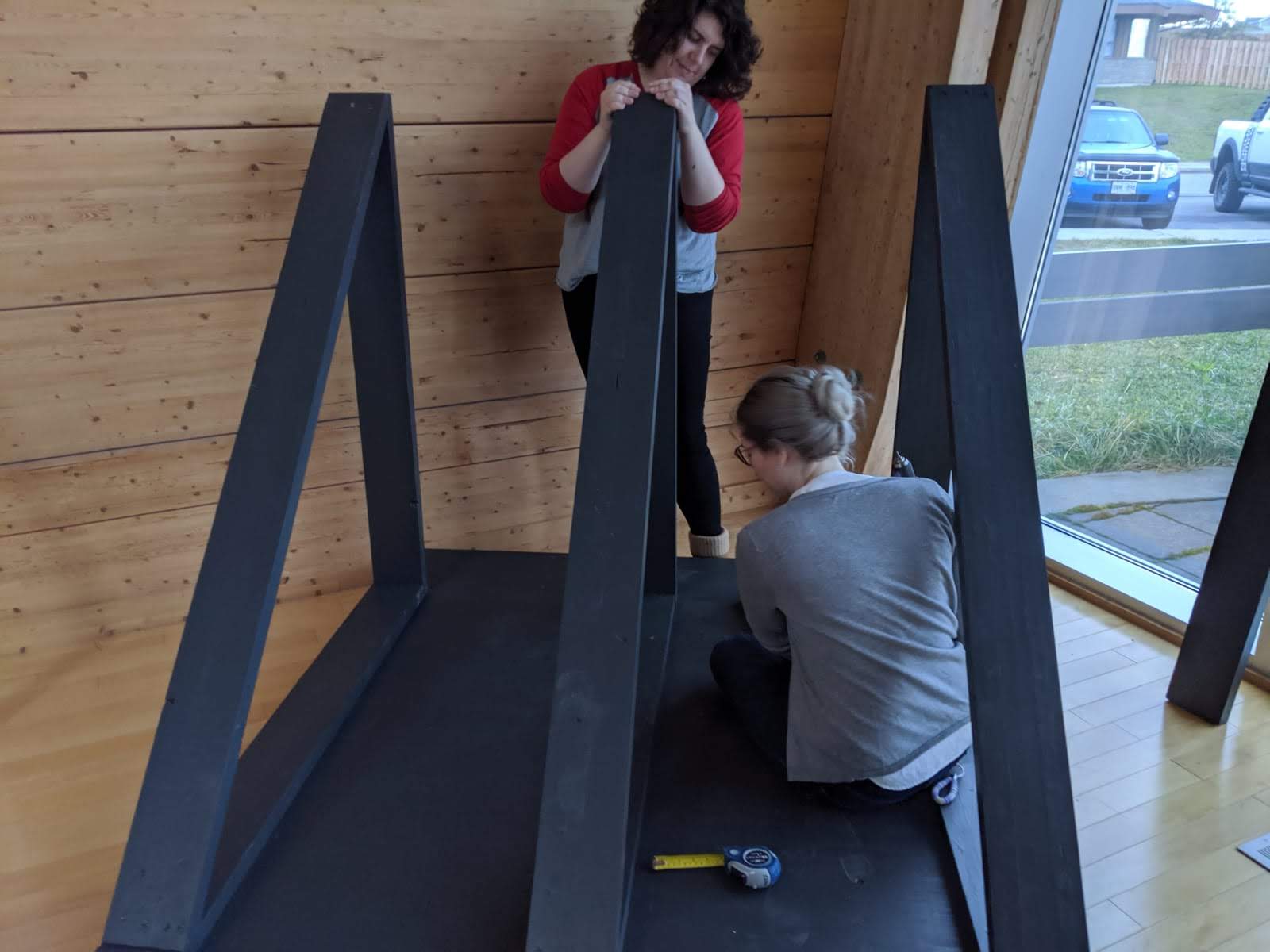 Building the stand for My
Grandmother's Garden by Flora Weistche. I'm holding the support board while Jessica MacLean
drills the board into place. Photograph
by Melanie Banks.
My Grandmother's
Garden, on completed stand in the entrance area of Aanischaaukamikw.
Photograph by Chanelle Fabbri.
Over
my 19 weeks of being an intern, I had a chance to work independently on a
couple of projects, one of which was constructing mounts for the many snowshoes
in the museum's collection. Space in the secure storage area is at a premium,
so it is paramount that all available space is used to its greatest potential.
As of 2020, Aanischaaukamikw has over 30 pairs of unique, hand made snowshoes
in the collection, many of which have come in with details about their makers
and the specific details of how they were made, like the type of wood and
sinews used. But for collections management, snowshoes are one of the worst
culprits for occupying horizontal space on shelves but leaving plenty of
vertical available above them. In order to fix this problem, I made mounts and
spacers so two sets of snowshoes can be stacked on top of each other, without
putting any pressure on the lower pair, therefore occupying space that was
previously home to only one set of snowshoes. Aanischaaukamikw is well on their
way to having the world's largest Eeyou snowshoe collection, so more storage
solutions will be needed in the coming years.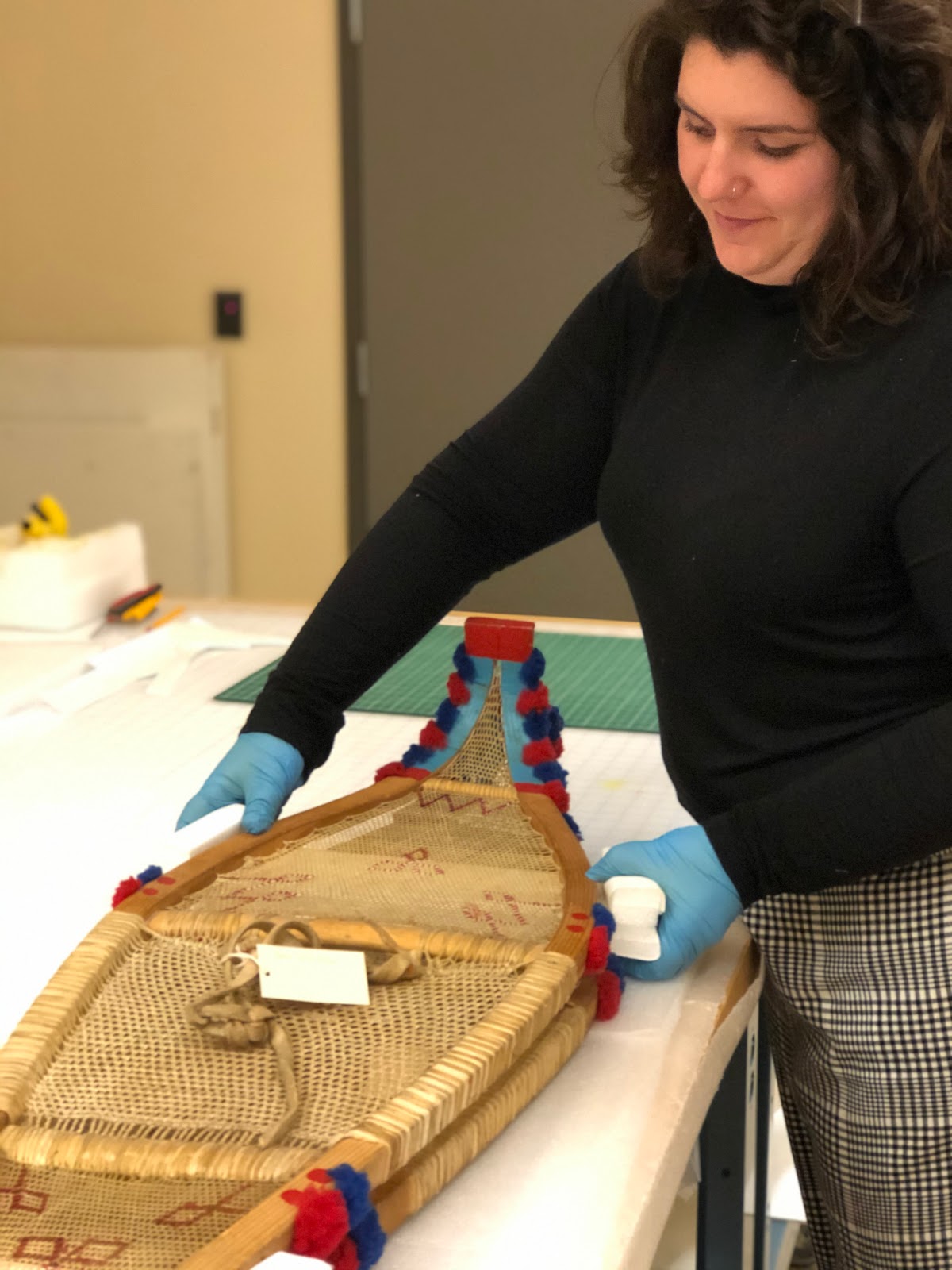 I'm placing a mount on a pair of snowshoes. Photograph by Melanie Banks.
To see more snowshoes be sure to
check out the online database: cree.minisisinc.com
Not
all of my work tasks were hands on with collections, some tasks were
procedural. For example, I was given the opportunity to do much needed updates
to the photography procedure document. I expanded this document to provide detailed
instructions for any staff member or intern on how to photograph and organize
the digital files for any object / belonging in the ACCI collections. This
document will provide continuity to all future collections photography, to make
sure there is consistency in file naming and where to locate the files. Part of
this process included experimenting with how to take photographs that are very
crisp and detailed, so that they can be used for multiple purposes in the
future.
My favorite part of my 19 weeks with ACCI was
the ability to work with and learn from different people and departments of the
cultural centre. Living in Ouje Bougoumou over the winter was a bit of an adjustment from where I grew up,
in southern Ontario, but it was a very positive experience overall. I would encourage
museums studies students to think of ACCI when looking for an internship
opportunity, because it is a unique and special place to immerse yourself in
Eeyou culture.
By: Chanelle Fabbri, YCW Collections Intern 2019-2020