On Wednesday March 20, Aanischaaukamikw Cree Cultural Institute hosted another Movie Night showing "Cold Journey" starring Eeyou Istchee's own Buckley Petawabano. Mr. Petawabano was kind enough to record a message that was played before the start of the film. He spoke of his time making the film and the work that came, such as the TV series "Rainbow Country". ACCI would like to thank Mr. Petawabano for taking the time to record such a heartfelt and meaningful message.
"Cold Journey" is a story about a young boy trying to fit into two very different worlds. His family remains on the reserve and survives by hunting, trapping and fishing. The main character struggles between the lifestyle and traditions of a young Native man and the residential school system imposed by the government. Similarly, while being drawn to a traditional lifestyle, Buckley was required to attend a residential school himself and so was able to relate to the main character of the movie.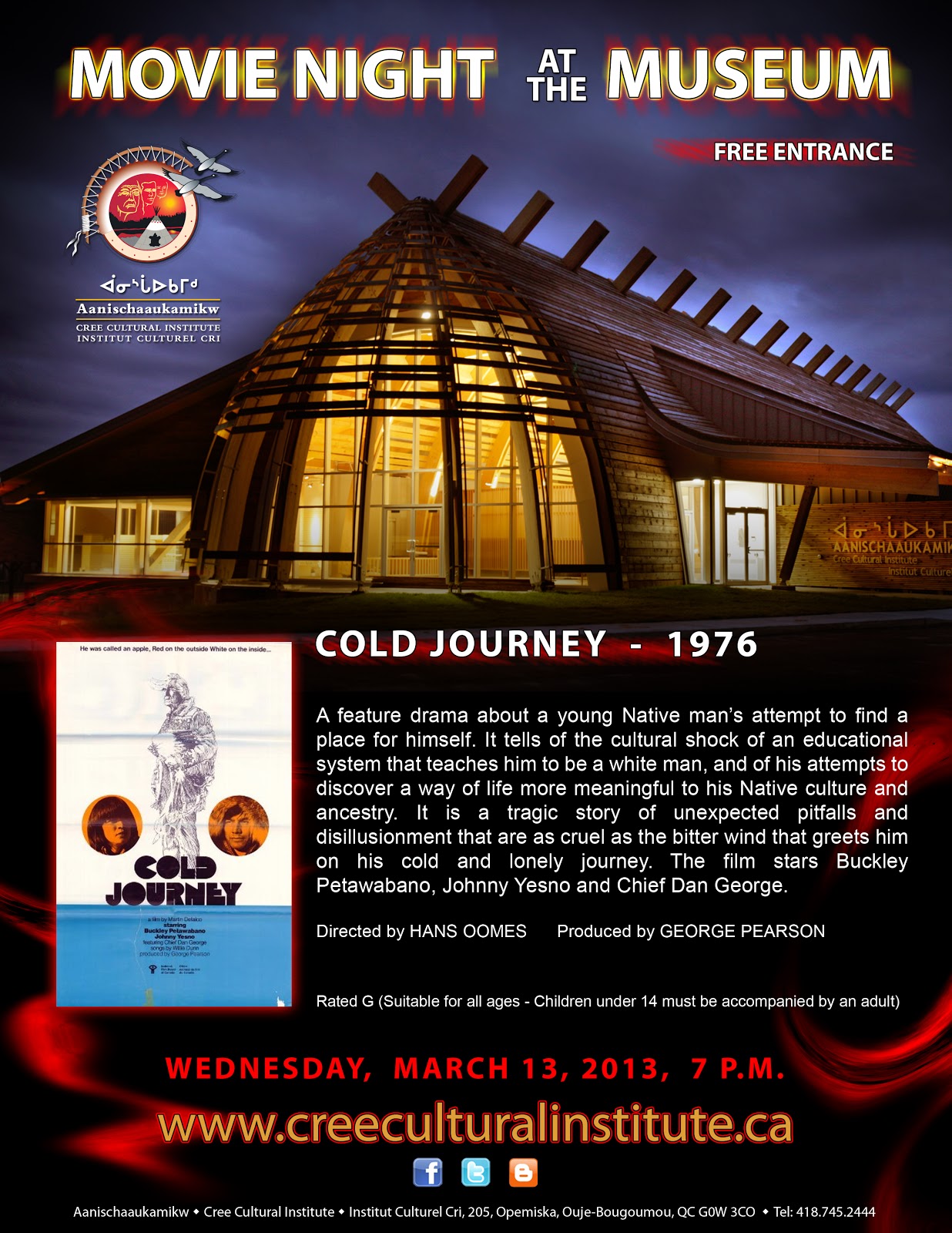 Even with such a serious topic, there were moments that had those in attendance laughing. In one scene, the main character shoots a gun in the house of the family he boarded with, highlighting cultural differences in a humorous way with the line, "Indians don't have loaded guns in the house". The driving skills displayed after the main character "borrowed" a skidoo from the skidoo shop were exceptionally exciting and brought some chuckles from the audience.
ACCI was happy to present this film just before Mr. Buckley Petawabano was officially recognized for all the years of service to Eeyou Istchee at the Cree Native Arts and Crafts (CNACA) Festival. Not only is Mr. Petwabano an actor and a cinematographer, but he was also instrumental in the creation of the James Bay Cree Communications Society. Mr. Petawabano was given the Cree Legend Award by CNACA at their awards ceremony on Saturday March 16, 2013. As a deserving recipient of this award, Mr. Petawabano was given a standing ovation as he was recognized by his fellow artists. ACCI would like to congratulate Mr. Petawabano on this well-deserved honour.