One of the most exciting things
that happened with our museum collection in the last few months was the amazing
reunification of an object with the family of the maker.
In May 2015, ACCI hosted a
Curatorial workshop lead by Moira McCaffrey, and one of the attendees was Linda
Stewart Georgekish from Wemindji.
At this time, she mentioned to us that her late mother Demaris Gilpin Stewart
had made a rabbit fur coat 'for a museum' back in the 1980s and that she has
been looking for it ever since! We informed her that we do have a few rabbit
fur coats in our collection and that we would keep an eye out.
A few months ago, Linda posted a photograph on
Facebook of her nephew, Bernard Stewart, modelling the coat when he was a boy
in 1980: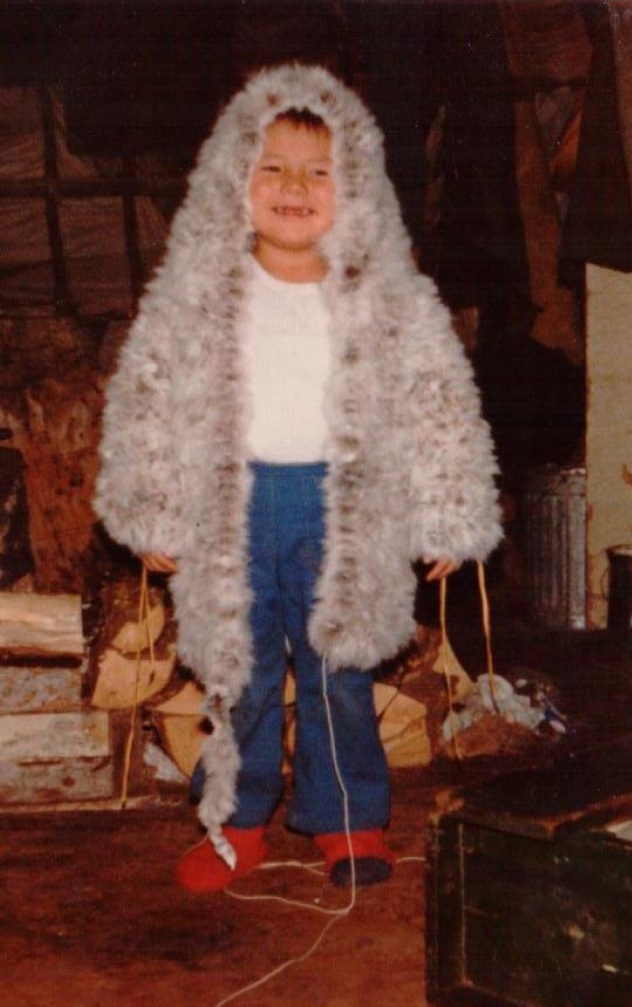 Bernard Stewart, 1980
This led to the CBC North doing a radio interview with Linda, and they also got in touch with ACCI to ask if the coat might be in the collection. At this time, one of the
collections staff double checked all of the rabbit fur coat records, and discovered
that the rabbit fur coat Linda Georgekish had been looking had been in our
collection all the time!
The coat had been donated as part
of a large collection of Cree objects from the Cree Regional Authority – Nemaska (CRA) in 2012 and the provenance of Paint Hills (Wemindji) had been
overlooked until now. The CRA had been
collecting Cree crafts and tools since the 1980s, hoping to have a museum in
the future. When Aanischaaukamikw opened
in 2012, the CRA donated these objects to ACCI. ACCI's collection has grown
quickly since we opened; many objects were donated, and loaned to us from
community members and different museums. As of early 2016, we have over 1000
objects in our permanent collections, and close to 1500 objects including all
of the loans.
We were
excited at the idea of reuniting the coat with the Stewart family, even for a
few days, so when we traveled to Wemindji in January 2016 for a training
workshop on our Cree Community Collections online project, we decided to take the
Demaris Gilpin Stewart rabbit fur coat along with us.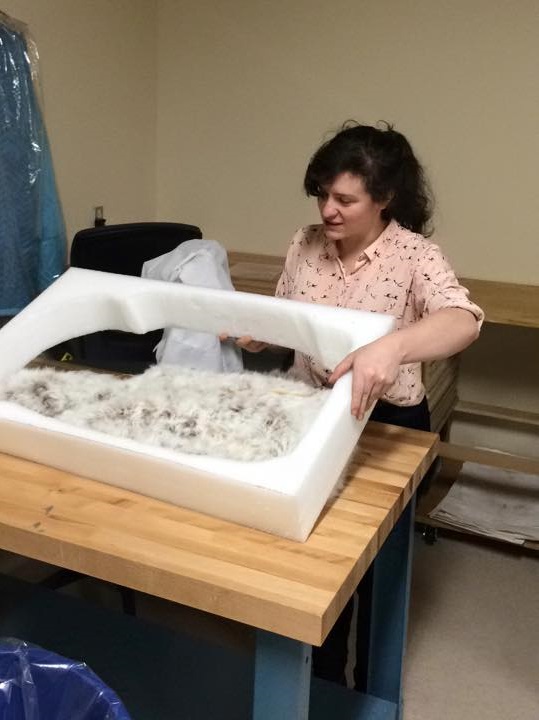 Our conservator Fiona Hernandez getting the coat ready to
travel!
Air Creebec were wonderfully accommodating with our extra-large, very fragile and precious
over-sized carry-on!
It was a very emotional experience
for the ACCI staff to see Demaris' children, grandchildren and friends engage
with this coat, a beautiful treasure that she left behind for everyone to enjoy
and learn from.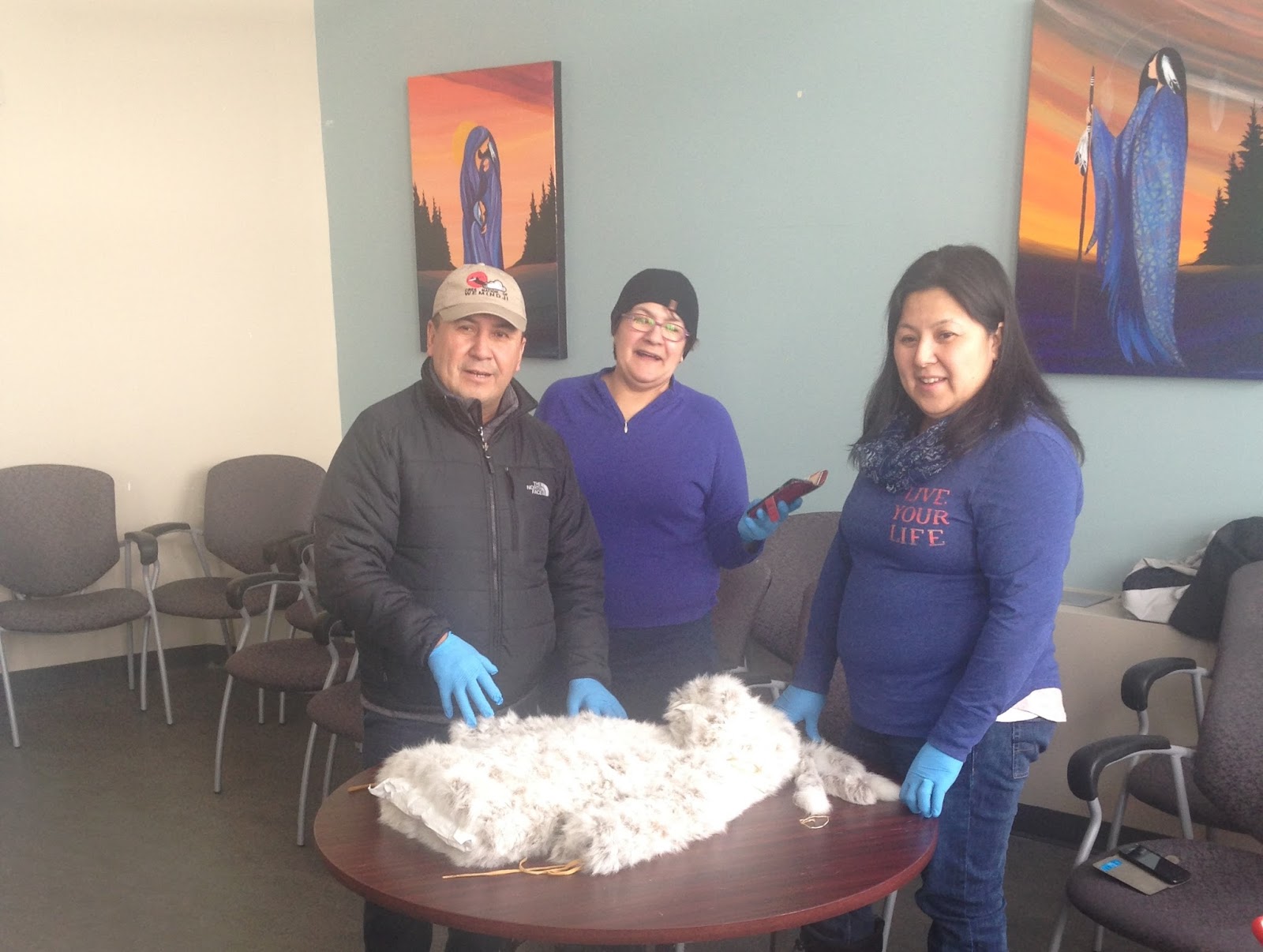 Demaris' children Henry Stewart, Linda Stewart
and
granddaughter, Angela Stewart Georgekish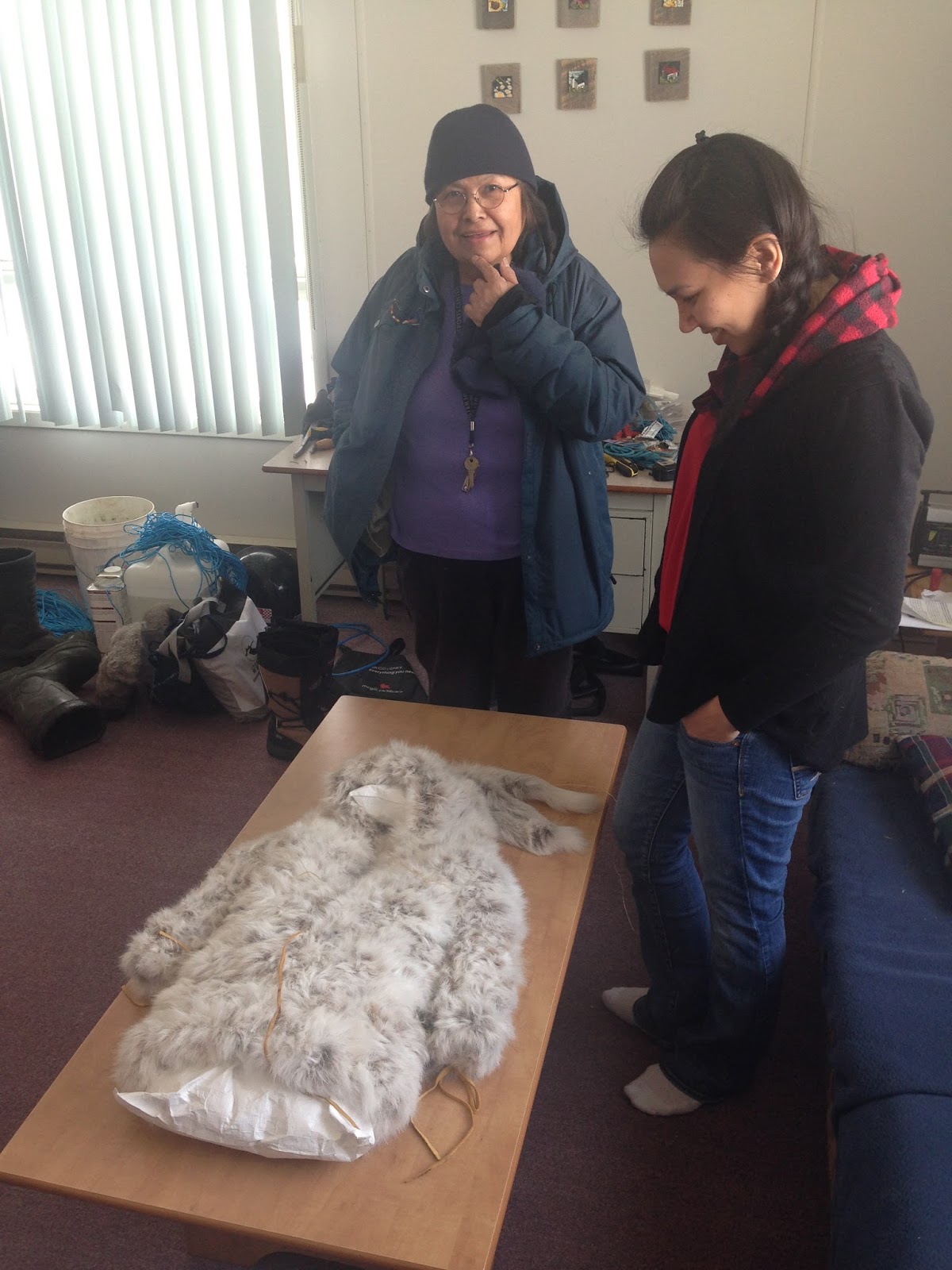 Demaris'
daughter Clara Stewart Visitor & ACCI collections staff Paula Menarick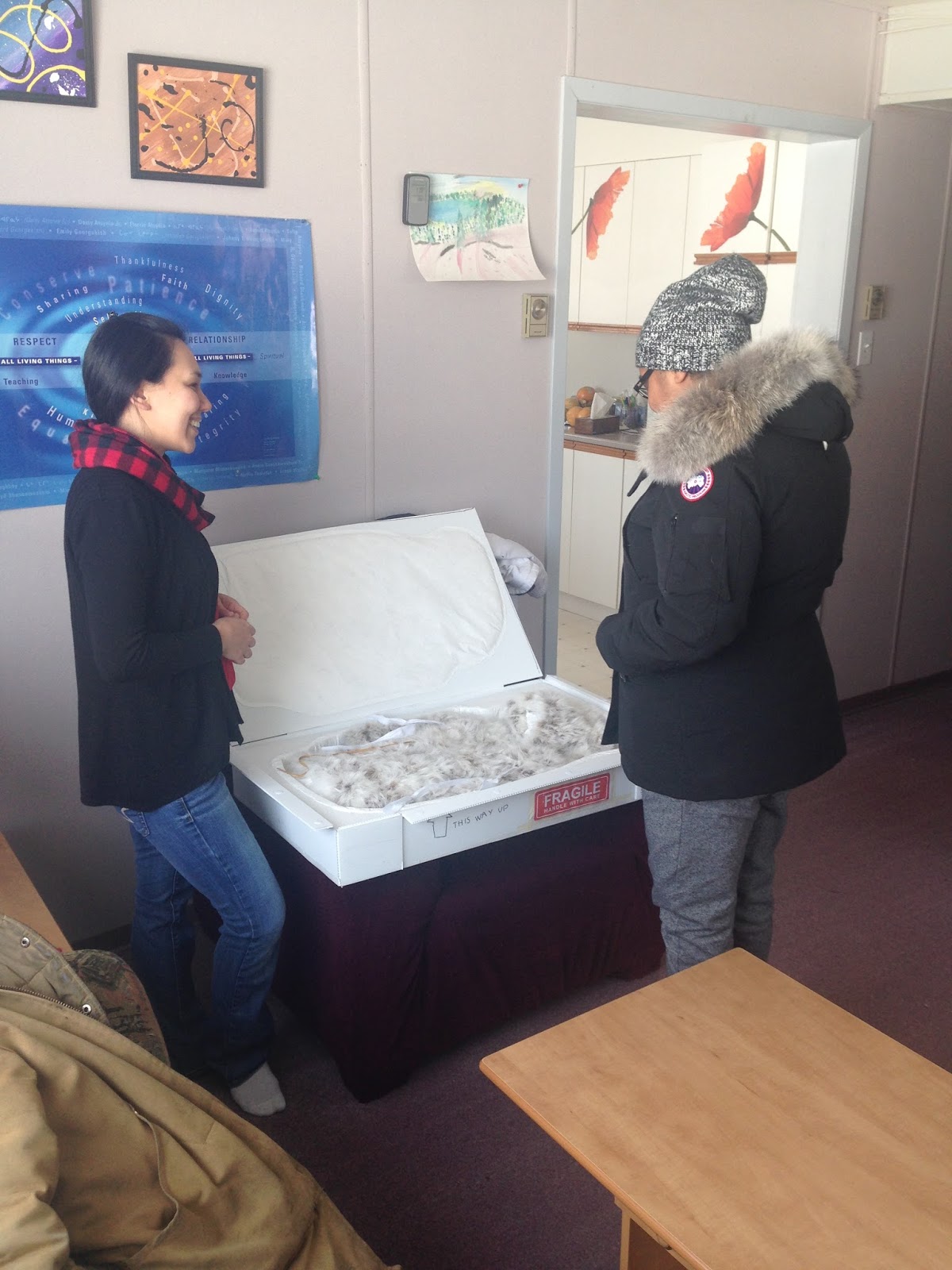 Paula Menarick & Demaris' granddaughter Kerry Lynn Stewart
The Chief and councilors of Wemindji also came to see the
coat, and one of the councilors Elmer Georgekish returned the next day to show
us some rabbit fur mittens and a hat that his mother had made.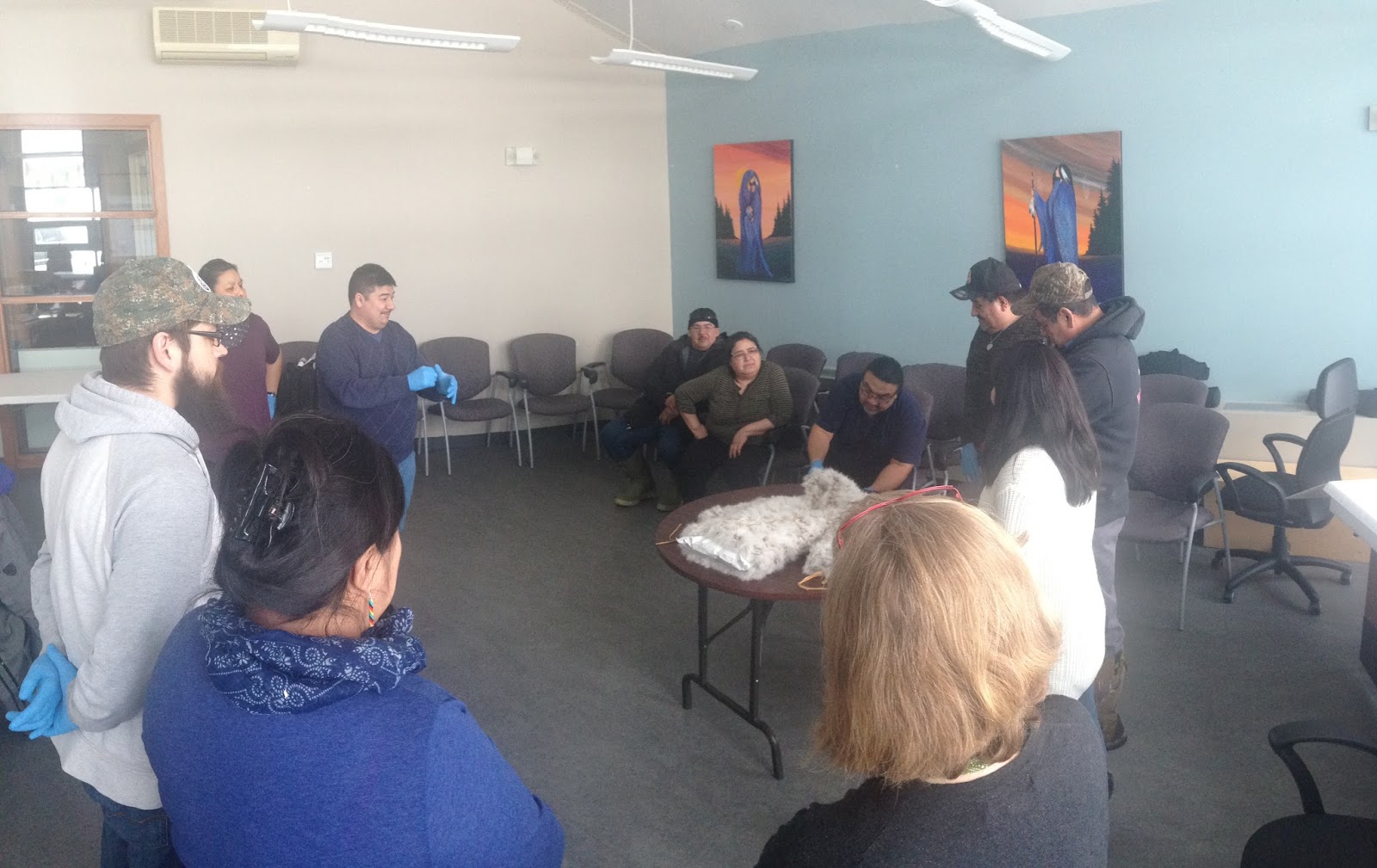 Chief
& Council of Wemindji looking at the coat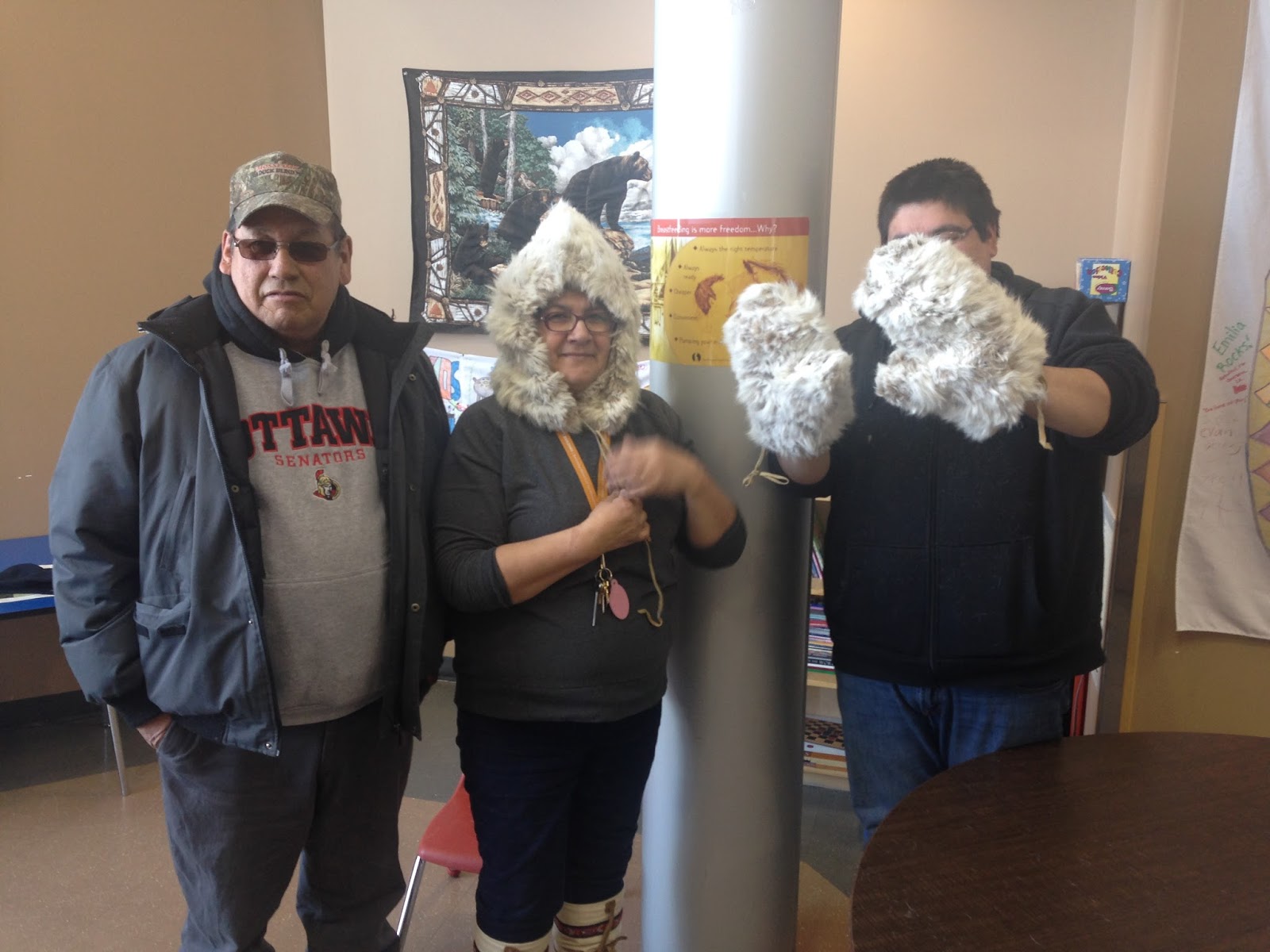 Elmer Georgekish, Linda Stewart Georgekish & Wemindji
Cultural Coordinator
Stacy Matches with the rabbit fur hat and mittens made by
Elmer's mother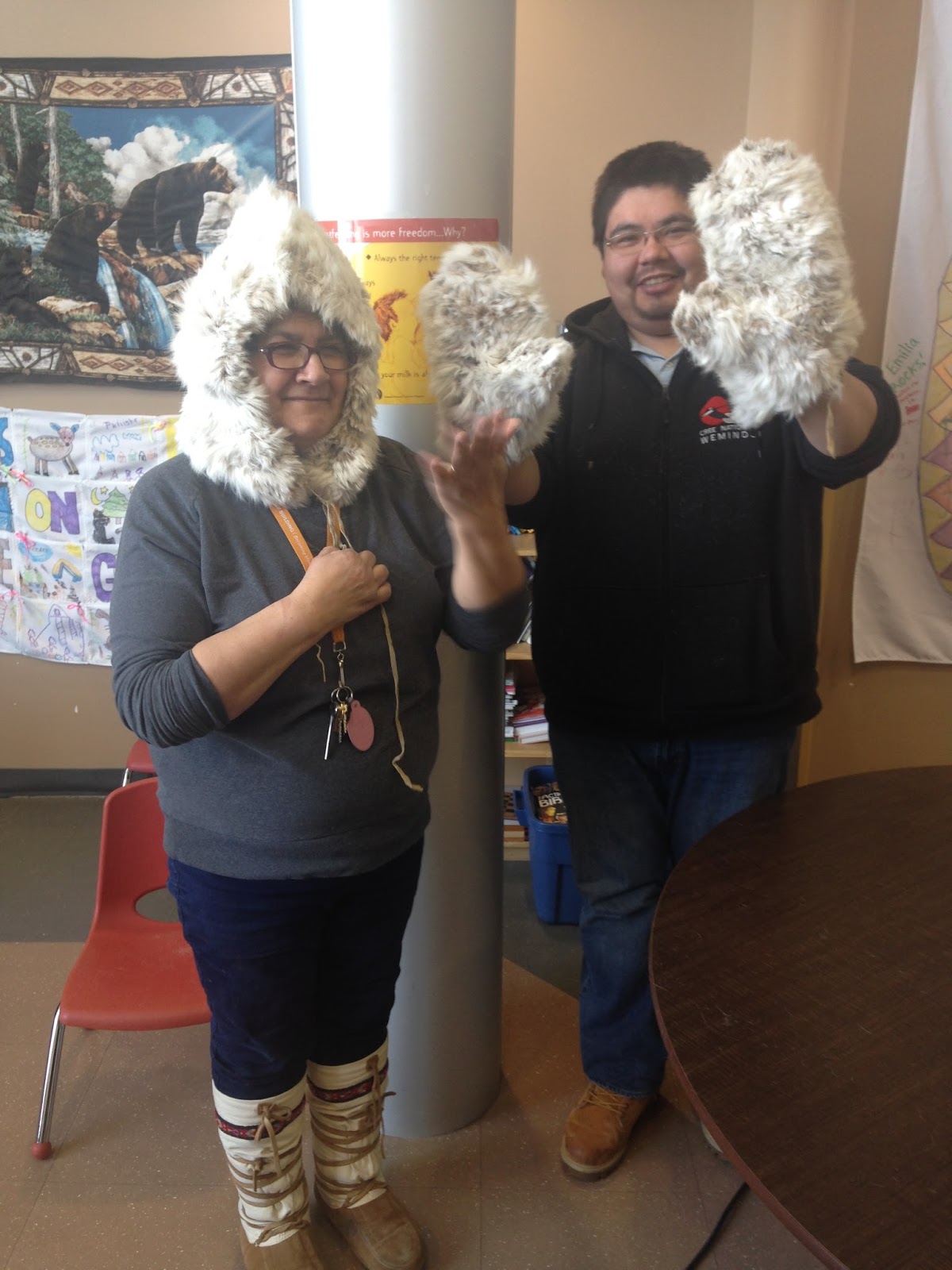 Linda Stewart Gerogekish & Stacy Matches
Seeing the coat brought back many
memories to Demaris' family of the days they spent together at their camp. We
also had an opportunity to take another photo with Bernard and the fur coat!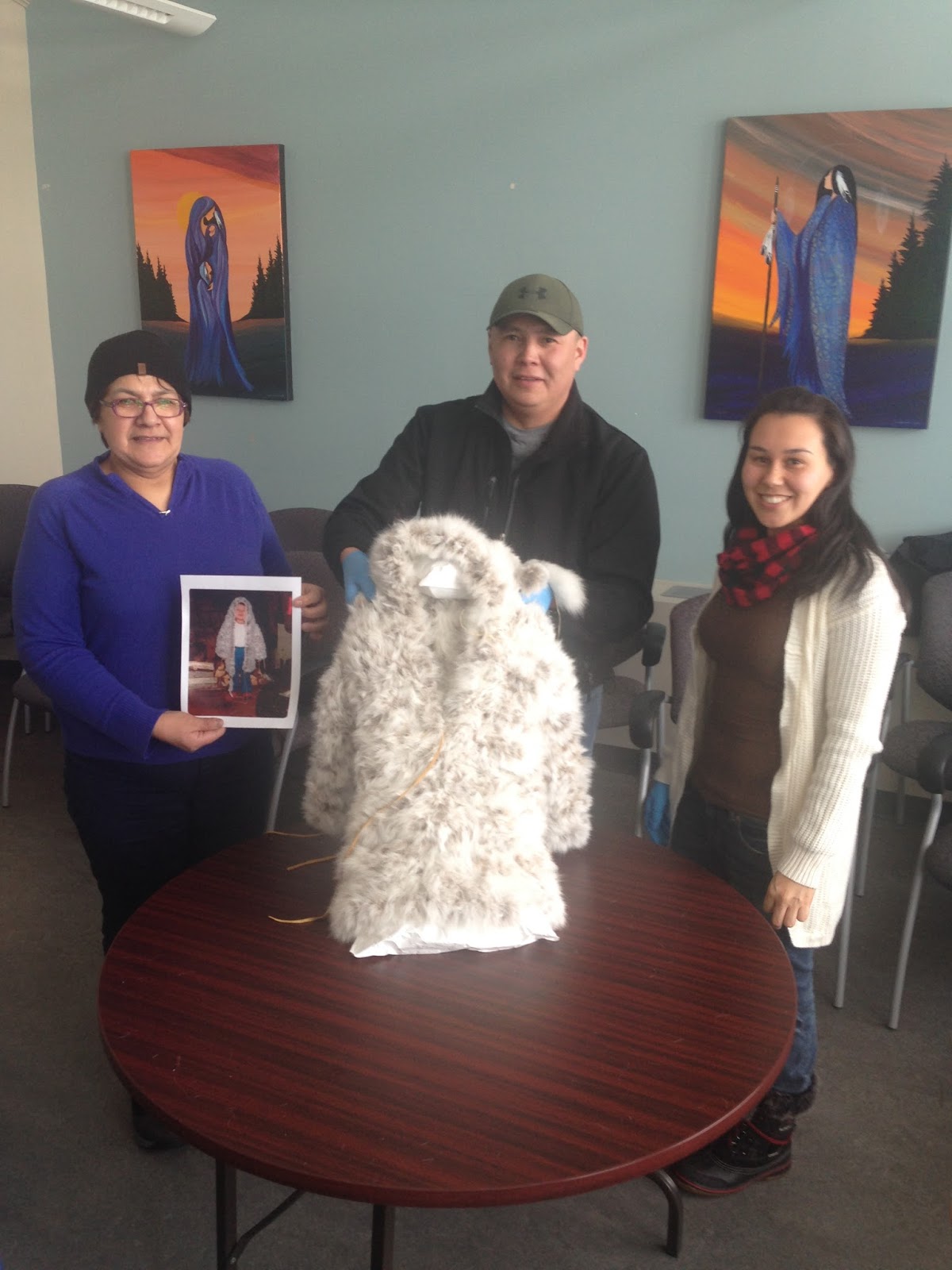 Linda
Stewart Georgekish, Bernard Stewart
& Paula Menarick
We
would like to thank Demaris' family and friends from Wemindji for sharing their
stories with us. It is amazing how an object can come to life through the
family stories behind them, and how an object can draw new stories and objects
from a community. We hope to hear more family stories from Eeyou Istchee. The
stories and teachings related to objects through generation to generation helps
us keep our Cree culture rich and makes sure these traditions continue to be
practiced by the Eeyou.
This story is also an excellent example of
Aanischaaukamikw's mission to be "…the
living, breathing symbol of the James Bay Cree's determination to pressure and
share the stories and legends, the music, the pictures, and the physical
objects that show this First Nations people's unique interaction with the land,
expressed through hunting, fishing, trapping, and underscored with a reverence
for the land they have walked for 7000 years".
Here is a story about the jacket,
shared by Demaris' daughter Linda Stewart Georgekish:
Rabbit Skin Coat – as told by Linda
Stewart Georgekish, February 16, 2016
Agoodah, I'll start now. My mom was named Demaris Gilpin. I think she was born in Eastmain on April 5,
1919 to Albert Gilpin, who she said, was chief maybe in Eastmain or somewhere,
and his wife Fanny. My mom was one of 18 children. As far as I can remember, when I was little,
before I went to residential school, we lived in the bush all the time. just
coming back to Wemindji a few times a year.
My dad, Sinclair Stewart, was a hunter, the amisk uuchimaau (tallyman) of VC 14 and the paaschichaau uuchimaau (shooting
boss) for that trapline. William Stewart, his father, passed the territory to
Dad because he was the only boy in the family. I remember that my mom always
made our clothes. She made moccasins, gloves, mitts, dresses and coats. And she would remake things and patching up
Dad's pants and everybody's clothes all the time.
When we lived on the land she would take us out with her to get firewood
– we would gather up the small pieces of wood she chopped from logs Dad had cut
and pile them for her or help her gather boughs for whatever dwelling we were
living in. She would teach us by getting us to help her with her tasks, like
getting water and chopping. She would
cut the logs my dad brought with a hand saw. Everyone did their share of the
work. When we were in the forest she
would gather that gum on the trees in a container she carried around. Then she
would give us a piece and tell us to chew on it for a long time because we
didn't have toothbrushes and it makes your teeth clean and white. She only fed
us only traditional food, what was killed like rabbit or beaver. The only other food we had were things like
flour, milk and tea. But once a week she would give us a big treat: one cookie
maybe or a stick of gum or a piece of candy.
That year, 1984 maybe or around there, we
were at Paakumshumwaashtikh (Old Factory River), it was after Christmas, in
January. I was in my teens then. We were living with three of my brothers,
some nephews, a niece and three other families related to us, about twenty
people in the same dwelling.
There were a lot of rabbits that year.
I remember hearing my mother tell my dad that someone (I forget who she
said) had asked her to make a rabbit coat.
So he said he would make a trail and cut some trees that the rabbit like
to feed the rabbits and set some snares.
We would all set up snares. Mom asked my Aunts Ellen Gilpin, Billy's
wife, and Alice Stewart to keep the skins for her whenever they killed any
rabbits. She would put them together and hang the skins outside in bundles of
about ten skins. When she was ready to
work on them she would tell me which bundle to bring for her. She would cut them up into strips.
It was the first time I'd seen a rabbit skin coat being made. I remember
having seen a child in a rabbit skin coat at camp once and we had rabbit skin
hoods but I had never seen a jacket being made. I decided I wanted to see how
it was done when she started cutting them up even though my dad kept us busy
outside. He would tell us to make sure and check the ptarmigan net or go
fishing or check the snares. We did all kinds of things. I told my mom I wanted
to help. Marion Stewart, William
Stewart's widow, was living with one of the families and she would tell us
stories about long ago, sometimes funny stories, and stories about when she was
delivering babies. I liked listening to
her stories while we worked.
When she had a lot of rabbit strips cut she told my dad to make a frame
for weaving them. He also made a small
smooth stick with a notch in it for twisting the strips of skin. The strings were strung back and forth across
the camp and she'd attach the end to that stick and roll it between her hands,
making a twisted fur yarn. When she had that strip all twisted she would make a
ball with it and then keep it in a cool place so it wouldn't dry out. I don't know how many balls were needed, or
how many skins she sewed together. I didn't
really pay enough attention, I'm sorry to say. There were a lot of fun things
to in the bush; you're never bored in the bush.
So I would help for while and then go out for a while to fish or get
water, or go for a walk or do other things.
Then I'd come back to hang out and watch and listen to more
stories. That elder, Marion Stewart, was
weaving a rabbit fur blanket. She had a
bigger frame and she made the blanket in two parts, and then she put it
together.
Mom started weaving the jacket on the frame, one piece at a time. She
made the pieces for the body, the sleeves, and the hood. When they were all done she sewed the jacket
together. That when she asked my nephew
Bernard to try it one so she could see if there were any holes in the seams or
the weaving. Then she kept it outside.
It was freeze dried until we went back to Wemindji. Then someone came to pick it up at the house
but I didn't know where it went.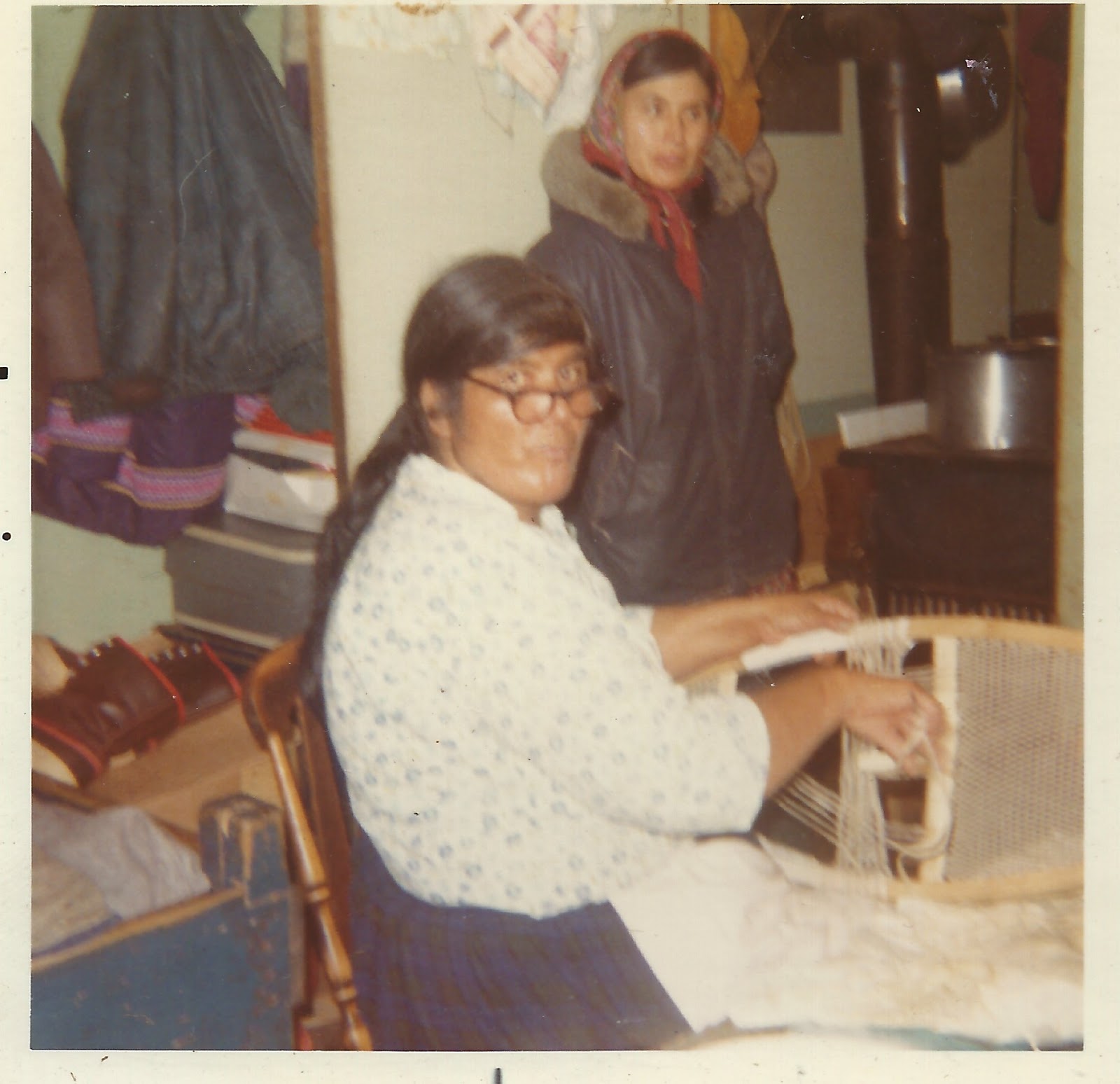 The Late Demaris Gilpin Stewart weaving snowshoes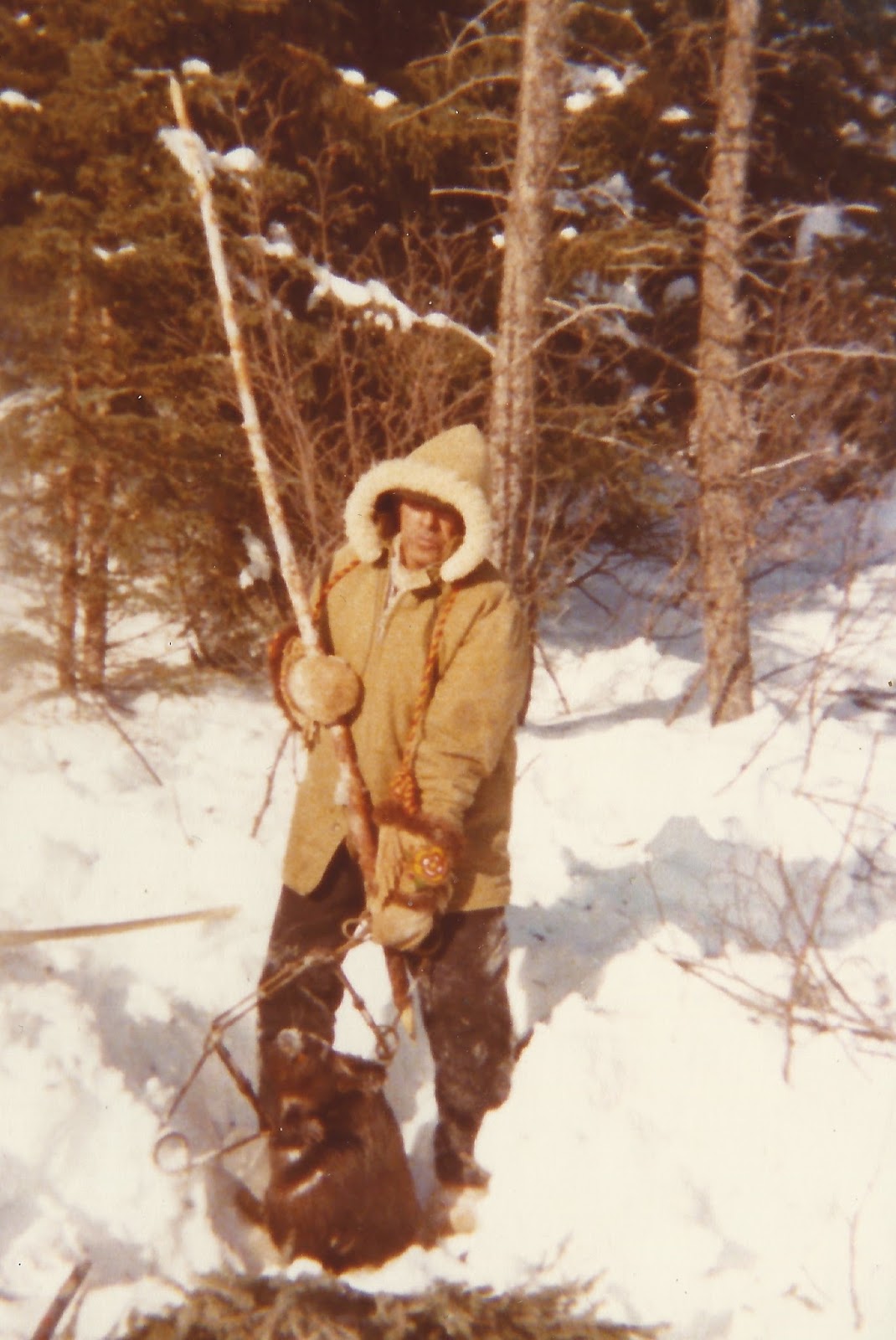 The Late Sinclair Stewart with a beaver in his trap