by Melanie Banks
With the closure of many public spaces during the Covid-19 pandemic in mid-March 2020, family and friends have assumed that as a heritage worker I would have been laid off. This has been a frequent conversation starter when I am inevitably asked how I am spending my time during the pandemic. When I correct them with the information that I have continued working fulltime, I am usually greeted with bewilderment and the follow-up question "how does a museum employee work from home?". This has been a strange opportunity to better explain to family and friends what my day-to-day work routine looks like at Aanischaaukamikw Cree Cultural Institute [ACCI] as the Collections Registrar and how I have taken my work home.
Without a doubt, the pandemic has interrupted the way we work and manage our collections at ACCI. We have used this opportunity to refocus our efforts on areas of our job that are suitable to the realities of working during COVID-19. When our facility was closed in mid-March some of the staff chose to leave Oujé-Bougoumou to be with family; for myself and a colleague, we packed up the objects we were working on, returned them to storage and secured the museum for lockdown.
Our 'work from home' plans were tailored for each staff member, depending on their normal areas of work. Luckily, we all work on a central server, which we were able to access remotely. This meant that while we were not able to physically access the objects we care for, we were able to access all of the information and photographs about the object, enabling us to proceed with the data entry and documentation areas of our work. In particular, I was able to use my time to enhance our online object catalogue records – most museums have an ever-present backlog of less pressing items like catalogue updates that are put aside when more pressing concerns (usually public facing projects, like exhibitions work) take priority.
The primary engagement a museum registrar has with the museum collection is through database entry and maintenance, especially acquisitions and inventory controls.

Image 1: Our
most recent rehousing project, building mounts for our snowshoe collection to
utilize vertical storage space.
In a nut shell, a registrar is typically in charge of keeping a detailed record of all the artefacts/objects entering and leaving the museum, and digitally inputting their record and information into the museum collections database systems (which may include paper records as well as digital and electronic). This includes managing loaned exhibits and objects, acquisitions, and insurance. I was able to transition into remote working easily, being able to give more attention to the database side of my role, putting aside the hands-on work for the time being. Expanding on the detail of my work during self-isolation gives me an opportunity to explain the process through which we have worked to process and clear our acquisitions database backlog.
Before any object comes into the museum collections at ACCI, our Acquisitions Committeeassesses and approves the object and its relevance to the museum based on the criteria in our Acquisitions Policy. If an object is approved as an acquisition, we notify the source and arrange for the transportation to ACCI. When it arrives on site, it is assigned a temporary Object Entry number on a form which also records the object's provenance, dates and any additional information the source has about the object(s). We obtain transfer signatures from the source, thereby officially handing the object ownership over to ACCI. Concurrent to this process, when the object comes into the building it is sealed in a bag and placed in a special quarantine area for a period of time, under the supervision of our Conservator, to contain any potential infestations and protect the rest of our collections.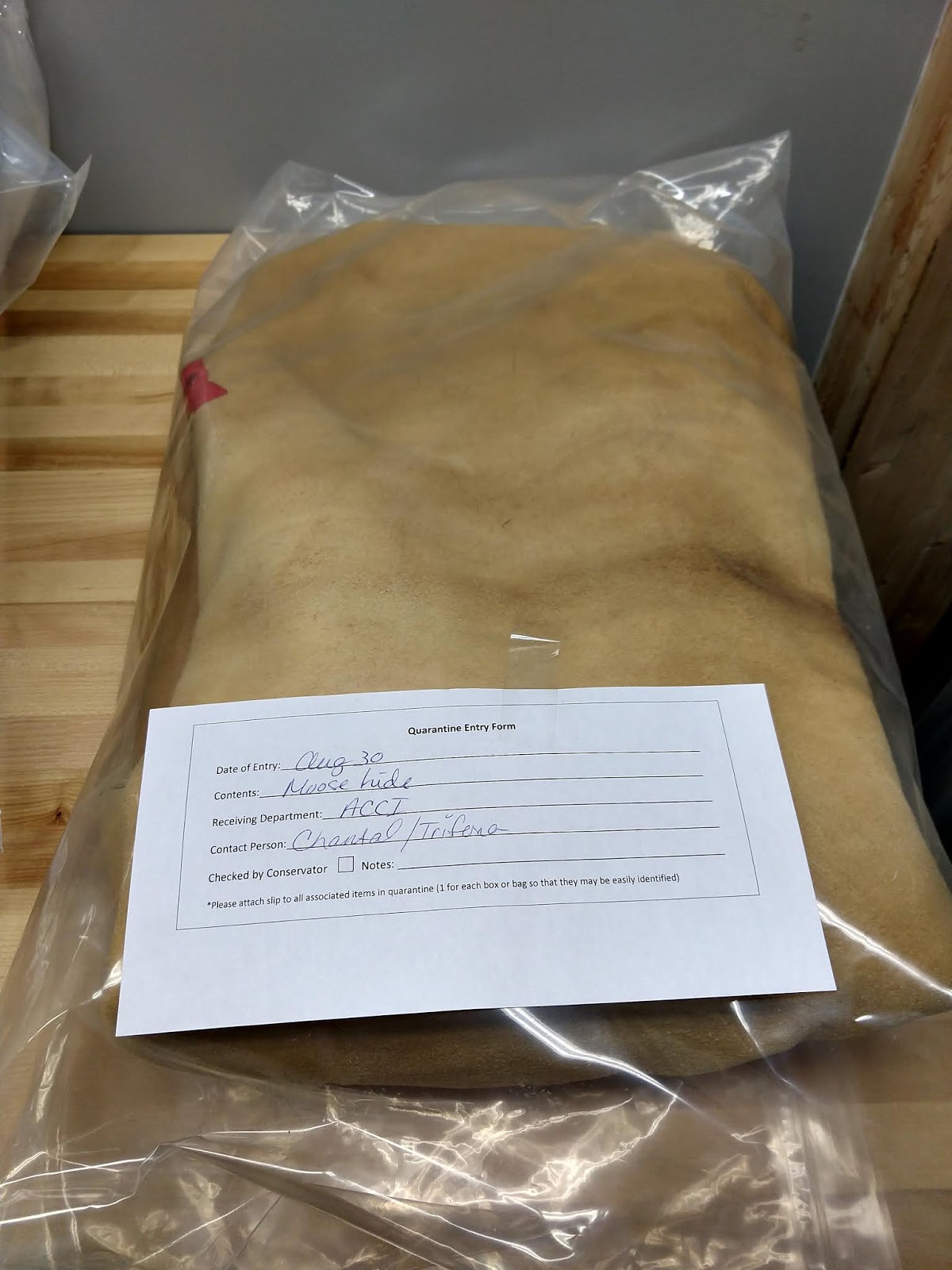 Image 2: A new object passing through quarantine
before being processed into the collection.
After the object is removed from quarantine the object is assigned a permanent number in the museum collection. I then enter the object into the database and do a basic catalogue record for the object. The Conservator creates a record of the object's condition to measure any deteriorations over time, in the interest of preserving the object. The object is photographed, labelled with its new permanent number, and a paper record of the object is created.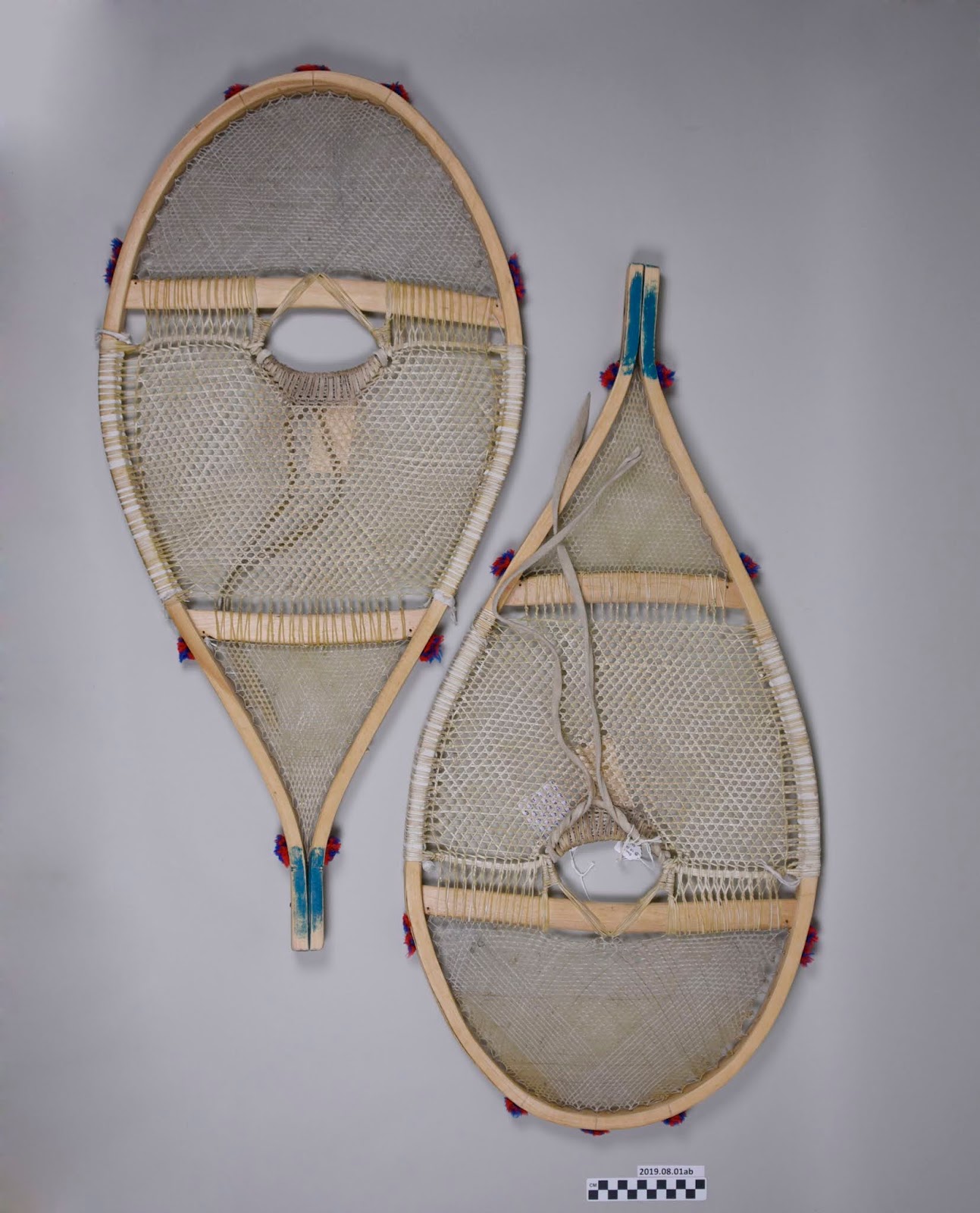 Image 3: A
recent snowshoe acquisition, in the process of being accessioned into our
permanent collection.
The record usually includes the date the object was made, the maker's name and information, a description of the object, measurements, description of use, provenance, and other details. A selection of this information is used for the online record for public consumption and all of it contributes to our role of maintaining the object into the future. After the process is completed the object is securely stored in climate-controlled storage units or put on display. I can happily report that despite the pandemic, I was able to clear a backlog of entries of new acquisitions into our collections database. Reaching this milestone comes as a great achievement for our team as we refreshed the content for our online database, making what is available online current.
While it comes as a great achievement to reach this goal, transitioning from working with a small tight-knit group to working from home and interacting with the people I used to see every day over video chat comes with its struggles. I think that most people could agree with me, that in the early days of the pandemic, all emails sent and received had a slight undertone of panic and confusion, often ending or starting the email with, 'hope you are staying safe during these crazy times'. It came as a reassurance that everyone was feeling the same way but did not help the anxieties we were all feeling. Team video chats always had at least one person who could not log in or unmute their computer (usually me or our conservator). And then there were the ever-present tech issues that we faced while logging into our physical work computers via our laptops at home. I spent a solid two weeks asking my co-worker, who was keeping an eye on the building, to restart my computer every morning for 2 weeks, before the issue suddenly magically stopped one week. We also had to have our emergency planning/health and safety teams meet remotely and start drafting new policies that we never thought we would have to write: Re-opening and Closing Procedures in the event of a Pandemic. In preparing to go back into the building we decided to include the entire staff in the new pandemic cleaning roles we have added to our procedures.
As I write this blog near 'normal' operations have resumed at ACCI, and we begin to welcome visitors from the immediate community back in, in tightly controlled, pre-booked groups. Now that we are back in the building, we are once again able to work on the hands-on projects, while our database is currently up to date. Though, that is not to say that our database is complete: there will always be small corrections and updates to make as new collections are received, records to improve and expand with new research information for our existing collections. But for now, we are left with more time to concentrate on new acquisitions, working on long term projects, perfecting the small things and rotating exhibits to welcome visitors back fully in the future. Our permanent exhibit will be undergoing some refurbishment in the next 12 months, as we prepare for our 10-year anniversary celebrations in autumn 2021.